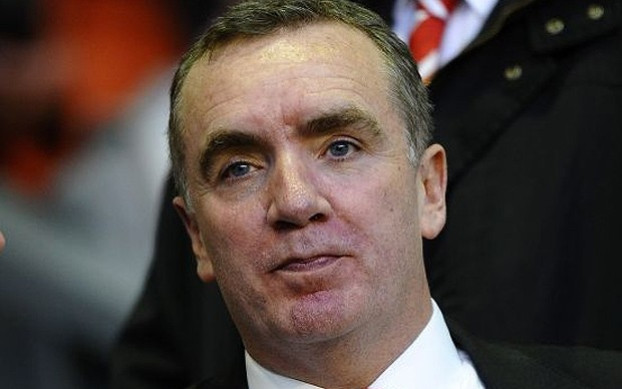 Liverpool managing director Ian Ayre admits the incident which saw Luis Suarez bite Chelsea defender Branislav Ivanovic was damaging for the club's brand.
Suarez was banned for 10 matches by The Football Association after biting Ivanovic during the 2-2 Premier League draw at Anfield last April.
The episode was the second substantial punishment handed to Suarez during his two-and-a-half years in English football after he was banned for eight matches for racially abusing Manchester United's Patrice Evra in October 2011.
The Reds were heavily criticised for their public handling of the incident which saw the club continue to back the forward despite the guilty verdict from the The FA's independent panel.
Ayre now states Liverpool have learned from their previous mistakes in managing moments of controversy but that the club's meteoric status was jeopardised.
"Any types of incident of that nature are damaging to the brand," Ayre, speaking at the Nolan Partners Sport Industry Breakfast Club, said.
"What is important in those times is to ensure that we act respectfully and professionally as a football club and in the past we got some of that wrong but more recently we've got that right.
"Luis is a footballer, he's a street fighter, he's a larger than life character and we've seen that not just across the Premier League but across football and across other sports.
"The hard work we did and the lessons we learned were a long way back from there. What we have as you'd expect in any well-run organisation is we have a process now. It's not a Luis Suarez process it's a process for any crisis whether it's on the pitch off the pitch or other.
"I spoke with Ron Goulay at Chelsea, we spoke with both managers and that was the right thing to do. For that reason I think it was handled well.
"Everyone who had a part in that knew where we were and what the process we wanted to go down was. For what was a difficult situation it was played out well."
While continuing to serve his ban, which saw him return on Wednesday for the League Cup defeat to Manchester United, Suarez made public on several occasions his desire to leave Liverpool in order to play Champions League football, while he accused manager Brendan Rodgers of breaking a promise in not allowing him to leave.
Liverpool were adamant Suarez remained not for sale and rejected two bids in the summer transfer window from Arsenal, before the Uruguay international eventually committed his immediate future to the Merseysiders.
And Ayre says following talks with Suarez, who said after the 1-0 defeat at Old Trafford that he was committed to helping Liverpool, the club have reached a reconciliation.
"No one is condoning any bad behaviour but it is something you have to deal with," Ayre added.
"He is who he is and we have to try and harness that. We've worked a lot with Luis since the last incident with Ivanovic. He's responded well to that he's been prepared to commit to that so he's worked on his character.
"We saw him back last night and he looks like the good bits of the old Luis - terrorising defenders and we're pleased that he's back and pleased that he's contributing.
"As we said throughout the summer we expected him to remain a Liverpool player. He has remained a Liverpool player and we all move on together.
"I saw some of his comments this morning that he's there for the team and he wants to help us achieve whatever he wants to achieve this season."