Italian police have opened an investigation after an officer was caught on camera inciting his colleagues to use 'violent methods' against displaced refugees in Rome.
Tensions are mounting in the Italian capital after hundreds of refugees – the majority of whom have been granted asylum after feeling Ethiopia and Eritrea – were forcibly evicted from a building after being accused of illegally occupying it for years. Activists and human rights organisation claim the number of people evicted is around 800.
Clashes erupted in Piazza Indipendenza on Thursday (24 August) after refugees were forcibly removed from the square. They had been living there for the past five days, after they were evicted from their homes in Via Curtatone.
A police officer allegedly told his colleagues to "break people's arms if they need to", in case of clashes.
"Police opened a formal probe after viewing videos published on some sites that show an operator inciting to use violent methods in case [people] hurled stones," the central police station in Rome said in a statement quoted by news agency Ansa.
"In the footage, the officer tells his men about the migrants 'they need to disappear, if they throw something, break their arms'".
The statement explained that the police units involved "in that context" have not been used to maintain order in further demonstrations and clashes in the square.
The statement was issued hours after Medici Senza Frontiere (MSF) told IBTimes UK at least 13 people had been injured during clashes with security forces. This includes one woman who fell on the floor and fainted after she was struck by a water cannon.
The organisation condemned what it deemed as a "violent evacuation carried out by the police" and explained that those forcibly removed from the square included women, the elderly and disabled people.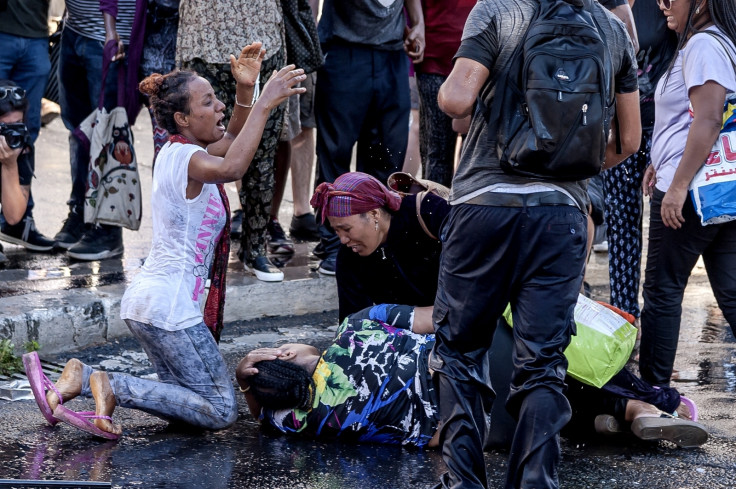 Activists and human rights organisations have condemned the episode, arguing that the evicted people have not been provided with alternative housing solutions.
"Italian authorities need to ask hard questions about this shocking eviction and, in particular, whether the force used by police was necessary and proportionate," said Judith Sunderland, associate Europe and Central Asia director at Human Rights Watch. "Using police in riot gear to force vulnerable people out of their homes with little warning and nowhere to go is just about the opposite of how things should be handled."
The UN refugee agency UNHCR expressed its "deep concern for the eviction, without previous notice, of about 800 people" and "the lack of alternatives for the majority of people who have been evicted."
Following clashes, nearly 18,000 people have signed an online petition calling on the Mayor of Rome, Virginia Raggi, to restore "anti-racist, anti-fascist and ethical values" in the city.
"No majour national politician was there this morning," Internazionale newspaper journalist Christina Raimo, who launched the petition, told IBTimes UK.
"The matter has been left in the hands of security forces and the mayor has not spoken out about this issue. No one has issued any statement," he continued.
Raggi has not responded to a request for a comment.
Police said in a statement quoted by Reuters that protesters had gas canisters and pepper spray and they hurled rocks and bottles at security forces. Two people were arrested.
They also said that refugees had beee provided with alternative accommodations, something that displaced people and activists have denied.
Some refugees managed to find a temporary accommodation at friends or relatives' houses, but the majority of people had no choice but stay on the streets.
The majority of those removed from the square simply relocated to other streets across the city, amid fears that similar episodes of violence might occur in the next days.