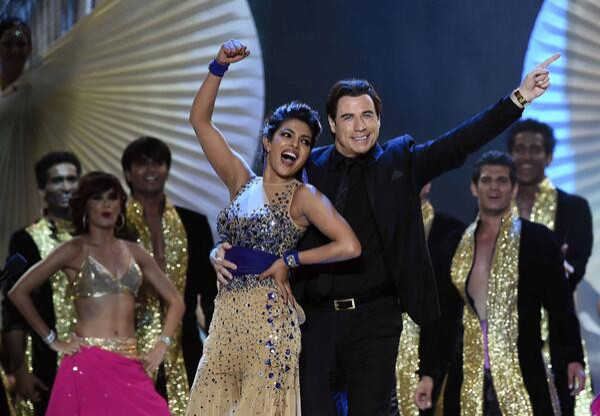 The IIFA Awards 2014 witnessed the gathering of famous Indian movie stars, including Slumdog Millionaire star Anil Kapoor, Priyanka Chopra and Hrithik Roshan.
The star-studded Award ceremony celebrated its 15th year by organising the Bollywood Oscars ceremony in Tampa Bay, United States.
But amidst the glitz and glamour of the IIFA event, there were reports of poor management and empathy towards audience.
An IB Times UK reader has claimed that the entire event was mismanaged by the crew and the Bollywood stars were almost two hours late on the green carpet.
IB Times UK reader Urvesh Patel shared his plight through a comment on an earlier article about the IIFA ceremony and tagged the show host's performance as boring.
"IIFA 2014 Tampa was an absolute waste of time and money. Much better to record it at home; that way you can fast forward the excessively long and boring acceptance speeches. The hosts did a lot of time passing. It was so bad that the audience would have to shout out stop, enough, or move on," Patel said in his comment.
Meanwhile, Raymond James Stadium tweeted the pictures of audience waiting for star sighting near the green carpet.
Stars upon stars arriving here! #IIFATampaBay @IIFA pic.twitter.com/gDO1AgmO67

— RaymondJamesStadium (@RJStadium) April 27, 2014
Green Carpet, we see you and fans already lined up! #IIFATampaBay @IIFA pic.twitter.com/Nbcc2lVaRb

— RaymondJamesStadium (@RJStadium) April 26, 2014
Patel claims that the green carpet began late and the fans had to stand in hot sun without any drinking water facility.
"IIFA in Tampa disappointed so many fans and the worst thing is that the green carpet started almost 2 and 1/2 HOURS late while all fans were roasting in the hot sun, severely hungry and dehydrated. Not worth attending the event ever again in life it was almost a very slow torture," he said.
In his comment, Patel mentions that Hrithik, Deepika and Ranveer were the best entertainers of the show. He also called the award management insensitive for not having vegetarian food counters.
"The stadium food stands only sell meat items and French fries. They expected us to starve all day waiting for the green carpet event to start and when we are finally at the end of the long food line, the only thing we can eat are French fries!! Who was the idiot who didn't do proper food planning for the audience," he said.
@MikaSingh @IIFA @Shiamakofficial But most part i hurted when host told celebrities to stand and clap for the audience and only few got up.

— urvesh (@urveshpatel06) April 28, 2014
IIFA 2014 Tampa was an ABSOLUTE and TOTAL waste of time and money. Bad hosting.P.C Deepika hritik Ranveer sign enjoyed us.audience dispoint — urvesh (@urveshpatel06) April 27, 2014
Meanwhile, fans expressed their disappointment over the poor managemnt on Twitter.
@MillionLights30 finally. What poor management @rjstadium #iifa

— AM (@ArpitmTweets) April 26, 2014
Shame on you IIFA... Extremely poor management #IIFA2014 — bollyfan (@bollyfan8) April 26, 2014
The show was hosted by Bollywood actors Shahid Kapooor and Farhan Akhtar.
Farhan Akhtar and Deepika Padukone won the Best actor Awards for their movies Bhaag Milka Bhaag and Chennai Express, respectively.