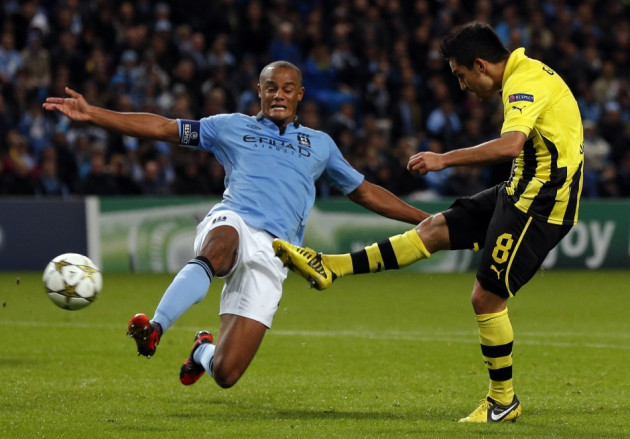 Borussia Dortmund midfielder Ilkay Gundogan has confirmed his desire to remain with the Bundesliga giants for another season.
The 22-year-old played an instrumental role in the club's memorable Champions League run that culminated in a final defeat to Bayern Munich, providing the industry and drive behind Dortmund's vibrant attacking contingent.
Reports have suggested Premier League clubs are keen on his services, with the Daily Mail reporting Arsenal will tempt the Bundesliga club with an offer of £20m while Manchester United have also been linked, fuelled by Gundogan's own admission that he would like to play in England during his career.
But the former Nuremberg midfielder has no plans of leaving the Westfalenstadion in the coming months, with a contract extension a growing possibility.
"After returning from Turkey, I will discuss it with my family, and my father will then sit down with Mr Watzke and Mr Zorc (Dortmund CEO Hans-Joachim Watzke and sporting director Michael Zorc)," Gundogan told Kicker.
"Next season I will definitely play for Borussia Dortmund. Where do we go then, you will see."
Gundogan's latest comments reiterate those he made in April when he indicated he is likely to sign a new contract with the Champions League finalists; with his current deal set to run until 2015.
However, the man who converted Dortmund's penalty in that Wembley final indicated that he harbours the desire to one day ply his trade in England or Spain, a revelation that will have a number of clubs hopeful of one day securing his signature.
"It is not reprehensible to answer such questions (of a future career in England or Spain) with 'yes'," he told Bild.
"Everyone has a childhood dream on what he would like to achieve on day and my dream always was to play in England or Spain."
With Mario Goetze Bayern-bound, Dortmund had been expected to also lose Robert Lewandowski this summer, with the Bavarian giants also eager to enlist the 24-year-old striker. But Jurgen Klopp's side have today insisted that the striker will not be sold, despite having just a year left on his remaining contract.
Gundogan's reiteration of his plans to stay will be another significant boost for Klopp as he prepares to do battle with a Pep Guardiola-led Bayern.