Illegal border crossings into US from Mexico drop 40%
Department of Homeland Security's John Kelly praises Trump's immigration orders for curbing crossings.
Illegal crossings from Mexico into the United States have sunk sharply in early 2017 after spiking ahead of the American election last November.
New data released by the Department of Homeland Security shows that from January to February the number of illegal border crossings dropped 40%. The drop marks a low in illegal crossings not seen since 2011.
"The drop in apprehensions shows a marked change in trends," said Secretary of Homeland Security John Kelly in a release.
Kelly said that since US President Donald Trump signed two executive orders to crackdown on immigration law enforcement, "apprehensions and inadmissible activity is trending toward the lowest monthly total in at least the last five years."
The numbers are measured by the number of people caught or prevented from entering the US. December 2011 saw the most recent low with 24,360 people caught in crossings. This February 23,589 people were caught. Many of the people apprehended on the border are, in fact, not from Mexico but other South American nations, including El Salvadorians, Guatemalans, and Hondurans.
Captures during illegal crossings had trended upward from 45,722 in June 2016 when then candidate Trump said he would crack down on illegal crossings from Mexico. These reached a high of 66,714 in early January.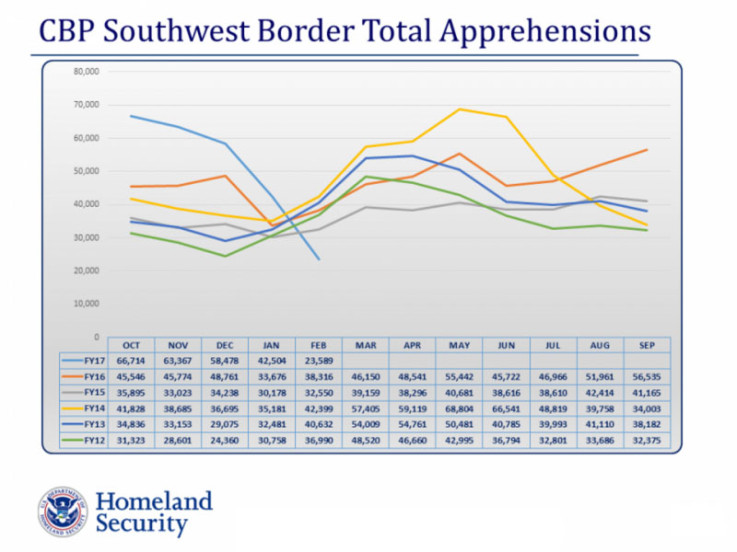 US Department of Homeland Security
"This change in the trend line is especially significant because Customs and Border Protection historically sees a 10-20% increase in apprehensions of illegal immigrants from January to February," Kelly said. "Since President Trump took office on January 20, we have seen a dramatic drop in numbers."
Despite all the apprehensions the Customs and Border Protection (CBP) service has still not using the data it collects to show how Trump's proposed wall on the US-Mexico border would stop illegal immigrants, according to a government report released in February.
"Fencing is intended to assist agents in performing their duties, but its contributions to border security operations have not been assessed," said the US Government Accountability Office (GAO) report.
Nevertheless, a sure sign that Trump's executive orders are creating a deterrence is seen in the fact that "we are seeing an increase in the fees charged by human smugglers along the US southwest border," said Kelly.
Since November 2016 "coyotes" – those involved in people-smuggling – have "hiked their fees in some areas by roughly 130% – from $3,500 to $8,000" in some rugged, mountainous areas, Kelly said. "Changes in US policy, including the detention of apprehended aliens, drive up the smuggling fees," he said. "The early results show that enforcement matters, deterrence matters, and that comprehensive immigration enforcement can make an impact."