Incoming Senate Minority Leader Chuck Schumer backs Trump's $1tn infrastructure plan
The New York Democrat said he can also find common ground with Trump on trade.
Incoming Senate Minority Leader Chuck Schumer says that he is on board with President-elect Donald Trump's $1tn infrastructure plan. The New York Democrat noted that the infrastructure bill could be an issue that Democrats would be willing to work with Trump on.
According to Politico, Trump's infrastructure plan calls for a $1tn investment to upgrade roads, bridges, tunnels and airports. The plan is more in line with Democrats than with Republicans, who have not signed on to a spending plan that expensive.
"We think it should be large," Schumer said to ABC News' Jon Karl and Rick Klein on the Powerhouse Politics podcast. "He's mentioned a trillion dollars. I told him that sounded good to me."
Schumer has called Trump's position on infrastructure "surprisingly" progressive and populist. The senator claimed Congress could pass the bill within the first 100 days of Trump's administration if it does not include tax breaks and "gimmicks".
Trump claimed during his campaign that he would "at least double" the $275bn infrastructure plan proposed by his Democratic rival Hillary Clinton.
House Speaker Paul Ryan reportedly burst into laughter when asked if he would help President Trump pass an infrastructure plan that cost $550bn or more. "That's not the 'Better Way' agenda," the Wisconsin congressman said.
Ryan's Senate counterpart, Majority Leader Mitch McConnell said earlier in December that "it will be interesting to see how" the president-elect's infrastructure plan comes together. "I hope we avoid a trillion-dollar stimulus," the Kentucky Republican said.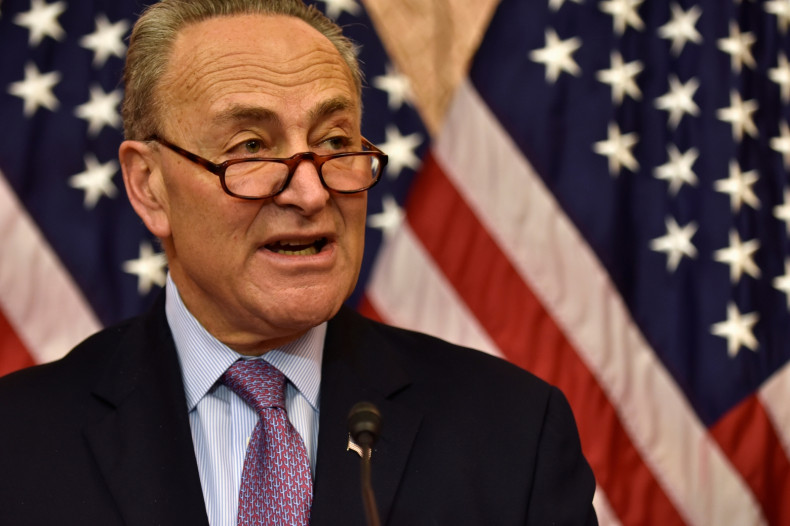 "We're not going to oppose something simply because it has the name Trump on it, but we will certainly not sacrifice our principles just to get something done," Schumer said. According to ABC News, Schumer also said he and other Democrats can find common ground with Trump on trade.
"I'm more close to that than I am to Barack Obama or George Bush' [positions], and so are a lot of Democrats," Schumer said. The senator added he has spoken a handful of times with Trump since the election.
A week after the election, Schumer made it clear he was willing to work with the incoming administration. "When we can agree on issues, then we're going to work with him," Schumer told reporters in mid-November. "But I've also said to the president-elect, on issues where we disagree, we expect a strong and tough fight. And that's how the relationship is going to be."