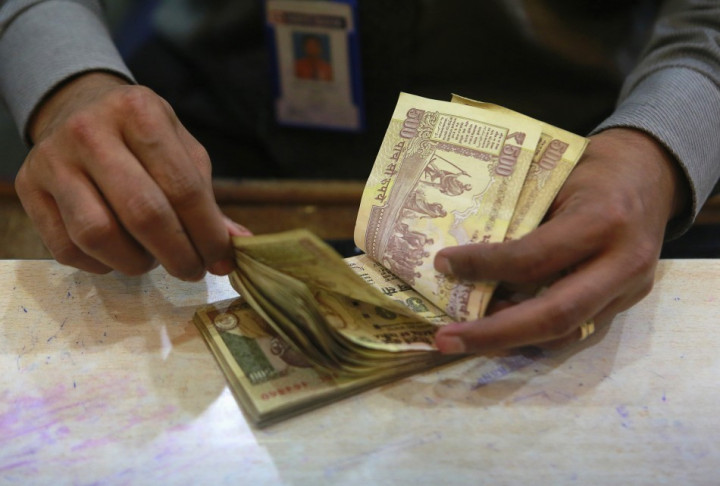 India is undertaking a number of austerity measures to cut its budget deficit and save its credit rating from a downgrade to junk status as an expected increase in tax revenues is unlikely to help meet rising costs.
The rupee's weakness is hurting the economy, as it has to pay more for imports. India's rupee plunged to an all-time low of 68.80 against the US dollar in August. It has fallen 16% against the US dollar in the past 12 months, making it one of worst performing major currencies in Asia.
The austerity measures come as leaders fear that the country would cross its deficit target. The budget deficit reached almost 75% of the 5.4tn-rupee ($88bn, £55bn, €64.9bn) target in the first five months of fiscal year 2013/2014.
Top officials in the goverment are facing a cut in their facilities such as first-class air line tickets and caviar, according to a Bloomberg report.
In September, the government announced a 10% cut in public spending by limiting travel costs, car purchases and the use of luxury hotels among others.
Finance minister P. Chidambaram may have to reduce at least 200bn Indian rupees in order to restrict the budget deficit for the fiscal year ending in March 2014 to 4.8% of the gross domestic product (GDP), Reuters reported earlier citing two officials at India's finance ministry.
In the previous fiscal year, budget deficit was at 4.9% of GDP. A survey of analysts by Bloomberg predicts that the country's budget deficit will widen to 5.1% of GDP this fiscal year.
The minister is likely to cut discretionary spending and keep food and oil subsidies in order to woo voters as state and national elections are getting nearer.
"A spending slowdown may well further sap growth," Tirthankar Patnaik, a strategist at Religare Capital in Mumbai, told Bloomberg.
"But revenues are meaningfully below budget forecasts, so the government has little choice."
Net tax revenues in April through August rose 4.9% from the same period a year earlier. The government's budget estimate is for growth of about 19% in the tax take in 2013-2014.
In the previous fiscal year, Chidambaram managed to cut more than 1tn rupees in government spending.
Rating Cut Fears
Major credit rating agencies, Standard and Poor's, Fitch, and Moody's rate India's debt at the lowest investment grade level.
Standard and Poor's last downgraded India to junk status in 2007 and said it has a negative outlook for the country's debt rating at present. Meanwhile, Fitch and Moody's maintains a stable outlook.
A downgrade in the rating to junk status would increase the borrowing costs for the country and negatively affect its financial markets that have already suffered from the rupee's weakness and an economic slowdown.
That was in addition to a widening current account deficit and a slowdown in the country's economic growth. The country recorded an economic growth of 5.0% in fiscal year 2012/13, the slowest pace of growth in many years.
The country's growth rate is widely projected to decline further in the fiscal year ending in March 2014. The Asian Development Bank has lowered its growth outlook for the country to 4.7%. HSBC Holdings expect the country's growth to deteriorate to 4% as investment moderates.