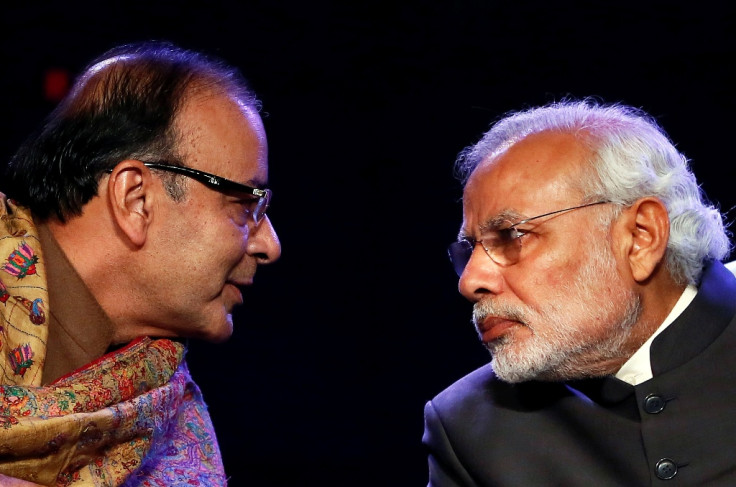 India's Finance Minister Arun Jaitley will present the government's maiden full-year budget in Parliament on 28 February and expectations are running very high.
Investors and businesses are hoping that Jaitley's budget will, among other measures, include proposals for changes in taxation, talk of creating world-class infrastructure with foreign funds, and unveil a road-map for the sale of state-owned firms.
Jaitley is unlikely to disappoint the scores of Indians, and many outside the country, looking to trade up and profit in India, which, under a revised formula for calculating GDP, is now the world's fastest-growing big economy.
Foreign investment rules have already been relaxed for insurers, real estate players and for military contractors.
But some analysts have cautioned against getting carried away by the media hype surrounding India's 2015-16 spending plan.
Devang Mehta, Senior Vice President & Head - Equity Sales & Advisory at Anand Rathi Financial Services told IBTimes UK that investors are hoping that Saturday's budget will put forward reform-oriented policies and lay out a roadmap for divestments and the roll out of the GST, while also stressing on reforms needed in the education sector and basic healthcare.
Mehta added: "Investors are also looking for concrete concessions under the 'Make in India' initiative and expect this budget to trigger the capex cycle.
"... Marco-economic indicators are bottoming out and that makes India an attractive destination for foreign and domestic investors.
But "India will be all the more attractive to investors if the budget can touch upon an investment roadmap for the next 3-5 years..."
Kim Iskyan, analyst at Stansberry Research, told IBTimes UK: "Foreign investors are expecting [Saturday's] federal budget to follow through on the promise of the incredible promise that the Modi government has shown so far. In particular, expectations are for the government to maintain the same budget deficit target of 3.6% of GDP, which should be attainable as long as growth doesn't slow, which would hurt revenue. (The budget deficit for the previous fiscal year will likely come in at just over 4%.)."
Iskyan added: "Infrastructure spending is on the upswing, and any modest slippage from the 3.6% target because of higher-than-expected infrastructure spending will probably not be penalized by investors.
"So overall, the macro backdrop is strong — the decline in the price of oil has been a boon to India, reducing imports and helping reduce inflation, and also cutting the government's expenditures on subsidies. The [central bank] has entered a downward interest policy regime, which should further boost growth — which is also being helped by tax reforms."
However, analysts at ANZ Research warned against expecting a raft of big-ticket reforms.
ANZ's Devika Mehndiratta and Glenn Maguire wrote: "Expectations are running sky-high (at least in the media) regarding possible reform announcements on 28 February. We don't expect a slew of big reforms, certainly not similar to, as some hope, the budget in 1991 that ushered in India's economic liberalisation. There's reason however to hope for a reasonably decent-to-good budget."
Where to watch live
Jaitley will deliver his budget speech in Parliament at 11.00am IST. Live coverage is on Lok Sabha Television, a channel mandated to telecast live the proceedings of the lower house of Parliament. Click here for the Lok Sabha TV live web streaming link.
The Indian government's official Union Budget website will provide a webcast of Jaitley's budget speech. Click here for the live web streaming link.
Budget document
Jaitley's budget speech and the entire set of budget documents will be available on the official Union Budget website, when his speech ends.
India economic review
Jaitley, on 27 February, tabled a key report on the state of the Indian economy in Parliament, which forecast that the nation's economic growth could gather speed and strike 8% in the financial year 2015-16.
However, the India Economic Survey expressed concern over stalled projects countrywide, with the total stock of stalled projects constituting about 7% of GDP.
To reduce the backlog, the Survey advocated the revival of public investment in the short-term.
Railway budget
India's Railway Minister Suresh Prabhu presented the railway budget on 26 February, which Angel Broking said "laid thrust on customer satisfaction, investment towards capacity building and modernization of infrastructure."
In the budget, Prabhu took the road less travelled by refraining from hiking passenger fares to finance upgrades worth $137bn (£88.7bn, €122bn) over five years. But he raised freight charges.
While economists welcomed the minister's move to break with a budget tradition of announcing new trains for future political gains, they said they wanted more details on how the planned investment will be funded.