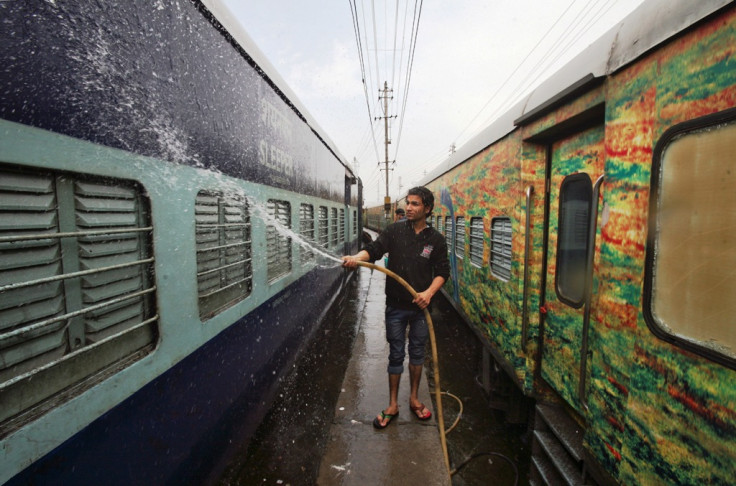 The Indian government has said it will pump $137bn (£88.4bn, €121bn) into its overloaded railway network over the next five years.
New Delhi wants to modernise the world's fourth-largest rail network, needed to unlock faster economic growth in Asia's third-largest economy.
Presenting the spending plan for the state-owned Indian Railways, two days ahead of the federal budget, Railway Minister Suresh Prabhu refrained from hiking passenger fares to finance the upgrades, but raised freight charges.
The benchmark BSE Sensex reacted negatively to his speech, shedding 0.7% in intra-day trade, with Texmaco Rail & Engineering falling 7% and wagon maker Titagarh Wagons losing 2.6%.
Funding
Prabhu, among Prime Minster Narendra Modi's trusted economic aides, said on 26 February that he will raise funds from multi-lateral lenders, infrastructure and pension funds, and by "monetising" railway assets.
He said the railway will not be privatised.
Freight
Passenger fares in India are subsidised by freight revenues. Prabhu raised charges further, with a 6.3% hike for coal transport.
He said he proposed to raise the amount of freight carried to 1.5 billion tonnes a year, from 1 billion tonnes at present
Modernisation
The minister said the focus will be on improving and expanding existing railway lines, many of which are operating at more than full capacity, and on introducing faster trains. The average speed of the country's best trains remain a slow 70 kms per hour.
Economists welcomed the minister's move to break with a budget tradition of announcing new trains for future political gains, but said they wanted more details on how the planned investment will be funded.
Prabhu said: "Over the next five years, the railways have to undergo a transformation."
Jyotinder Kaur, principle economist at HDFC Bank in New Delhi, told Reuters: "I am little doubtful about the ways the railway minister will finance the huge capital expenditure as the budget lacks the specific detail."
In December, the Press Trust of India quoted Prabhu as saying that the railways, which caters to 23 million passengers a day, needed "investments upward of $100bn in [the] next 3-4 years...".
With 1.3 million on its rolls, the railway is India's single largest employer and reforms are politically sensitive.
Previous governments have kept away from modernisation, preferring to use the decaying system to create jobs and provide cheap transport.