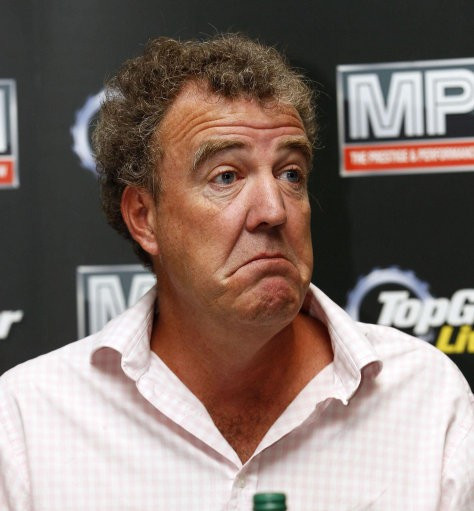 The Indian High Commission has complained to the BBC that a Top Gear 'India special' was full of "tasteless humour" and Jeremy Clarkson mocked Indian culture.
The 90 minutes special of the hit BBC show was shown twice over Christmas and featured Clarkson, one of the highest paid BBC stars, ridiculing India's trains, food, history and clothing.
The controversial presenter was also shown mocking the lack of sanitation in some of the poorer areas whilst driving around in a luxury Jaguar fitted with a toilet, suggesting: "This is perfect for India because everyone who comes here gets the trots."
The programme also put banners on trains reading: "British IT is good for your company" and another which said: "Eat English muffins." The banners were strategically placed to reveal two obscene messages when the train tore them apart.
The Indian High Commission sent a letter of complaint to the BBC, suggesting the producers deceived them about the true nature of the show.
"The programme was replete with cheap jibes, tasteless humour and lacked cultural sensitivity. This is not clearly what we expect of the BBC," said the Indian Commission.
"I write this to convey our deep disappointment over the documentary for its content and the tone of the presentation.
"You are clearly in breach of the agreement that you had entered into, completely negating our constructive and proactive facilitation. We strongly protest and expect the BBC to make amends, especially to assuage the hurt sentiments of a large number of people."
The BBC has revealed that a further 23 people wrote in to complain about the show and many people complained via Twitter, accusing the show of "casual racism."
This latest complaint follows a string of controversies that have followed Top Gear and its main presenter Jeremy Clarkson.
Last month the BBC had to apologise after Clarkson told viewers live The One Show that striking workers should be shot in front of their families.
Last May the Top Gear presenters were accused of racism again as they joked Mexican cars will have the same ""lazy, feckless, flatulent, overweight" characteristics as its people and described Mexican food as "refried sick."