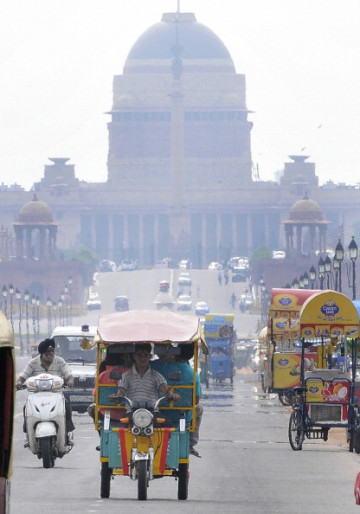 Delhi High Court has ordered the battery operated, three-wheeler e-rickshaws off the road, a day after a three-year-old boy named Dev died from injuries after being hit by one of the speeding vehicles and falling into a pot of boiling sugar syrup.
The incident occurred on Wednesday when Dev's mother Pinky was standing outside a sweet shop in Delhi, carrying her son, and a fast-moving e-rickshaw slammed into them, throwing Dev out of her grip and into a pot of steaming sugar syrup, as reported by a senior police officer on NDTV News.
In an attempt to pull her son out of the pot, Pinky incurred several burns too. Both the mother and the son were rushed to the Safdarjung Hospital in Delhi.
After two hours of treatment, Dev lost his battle and died, while Pinky is still recovering at the hospital, reported NDTV News.
Dev's relatives staged a protest outside the local Mayur Vihar police station in Delhi on Thursday, demanding action against the e-rickshaw driver who fled from the scene.
A petition has been submitted at the Delhi High Court seeking a ban on e-rickshaws, which are run on electric motors and have been gaining popularity since 2008. A number of them have missing registration numbers and passengers cannot claim insurance in the case of an accident.
The vehicles, originally designed to carry four passengers, are also seen carrying double the number.
"You say it is illegal. You stop them in the meantime, till a law is framed to regulate them. You can't allow them to take law into their hands," demanded Court officials from the Delhi government.
While the culprit remains on loose, Dev's relatives are considering pressing charges against the owner of the sweet shop for placing the boiling pot on the road.
A court hearing will occur on 14 August and new rules for e-rickshaws will be discussed. In the meantime, the Delhi High Court has ordered an immediate ban on the plying of e-rickshaws in the capital, saying their unregulated operation is hazardous to other traffic on the road as well as to citizens.