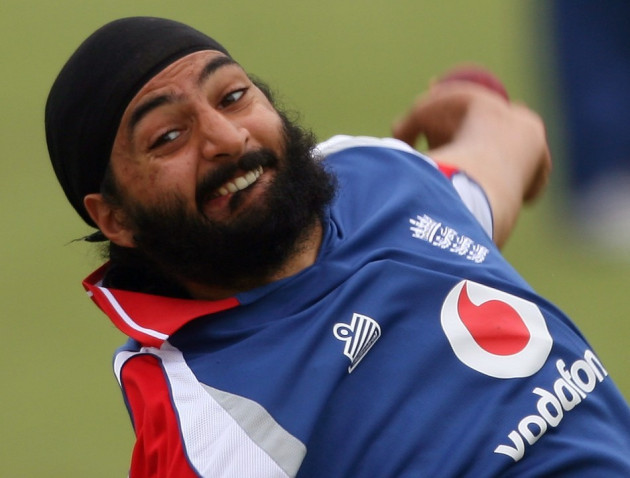 India's batsmen continue to struggle on the first day of the second Test against England. At tea the hosts were 167/5 with Cheteshwar Pujara, their batting hero in the first test, unbeaten on 77 and captain MS Dhoni on 27.
England spinner Monty Panesar, who claimed the crucial wickets of Virender Sehwag and Sachin Tendulkar in the morning, returned in the middle session to grab the wicket of middle-order lynchpin Virat Kohli (19), who misread and mistimed his drive to Nick Compton at cover. The session also saw Graeme Swann pick up his first wicket, claiming all-rounder Yuvraj Singh for a duck.
India resumed after lunch with Pujara and Kohli at the crease and the two were kept remarkably quiet by both Swann and Panesar. The two youngsters played a watchful few overs, as both of England's key spinners found more than a hint of turn just outside off stump.
The first hint of trouble for the batsmen came from Panesar, again. The left-armer got the odd ball to both turn and bounce and Pujara had a nervous moment fending it just wide of silly point. The Indians responded with a boundary from Kohli in the same over, played with the wrists through mid-off. The tension was telling though, and the breakthrough soon came with Panesar's dismissal of Kohli.
Unfortunately for the Indians, Swann then claimed his first wicket of the match, beating Singh in the air to clip the off stump. The left-hander has only just recovered from cancer and looked to be in fine form, hitting a lovely 74 in the first Test, but today was not his day.
Since then, however, Dhoni and Pujara have steadied the ship, adding 48 for sixth wicket. The captain has had a few nervous moments in his innings so far, with Panesar in particular troubling the free-scoring right-hander.
Pujara, meanwhile, has been as steady as a rock for the hosts so far this tour and they will fervently be hoping he bats out the day, if not the session. Surprisingly, the Indians have managed a decent run rate so far, notching 2.78 runs an over. Should Pujara and Dhoni see out the day, a total of 275+ is possible and that would be a massive boost, after floundering at 60/3 in the morning.
The English bowlers have been as brilliant as they were ineffectual in the first Test, with Panesar (3/64 from 24) the obvious pick. He has found excellent support, though, from Swann (1/40 from 17) and James Anderson (1/29 from 12).
The final session promises to be an absorbing contest between Panesar and Swann on the one hand and Pujara and Dhoni on the other. If England can strike and remove at least one of the batting pair before today ends, they will feel they have won the first day... with good reason.