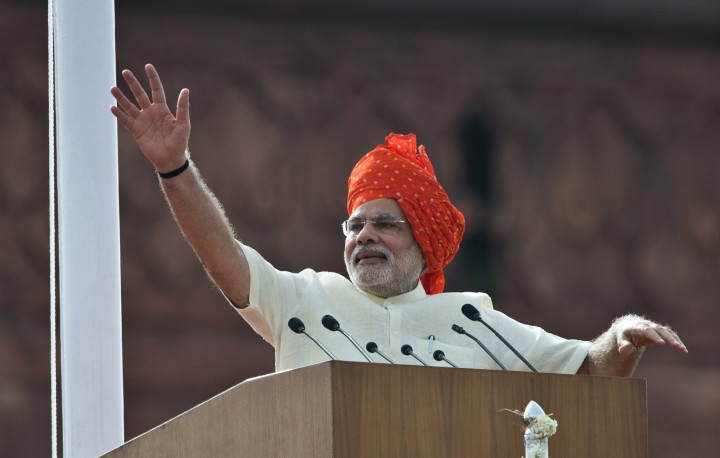 Indian Prime Minister Narendra Modi said the country hangs its head in shame over the recent deluge of rapes, during his first Independence Day address.
Modi, who was elected when his Bharatiya Janata Party won by an overwhelming majority in May, called for parents to take responsibility for their sons' actions and teach the difference between right and wrong.
"When we hear about these rapes our heads hang in shame," he said, speaking extempore without notes at Delhi's Red Fort.
For the first time in years, the prime minister did not deliver the speech from behind bulletproof glass.
"Those who commit rape are also someone's sons. It's the responsibility of the parents to stop them before they take the wrong path," he said.
Modi added that while young girls are frequently asked questions by their parents, young boys are not.
"Young girls are always asked so many questions by their parents, such as 'where are you going?' But do parents dare to ask their sons where they are going?"
The speech, which marked India's 68 years of independence from Britain, touched upon a number of significant social issues including societal and family responsibility in ending the spate of rapes that have recently rocked the country.
Modi criticised the sex ratio in the country and appealed to doctors to end the abortion of female foetuses. This week, the government revealed the child sex ratio stands at 927 girls per 1,000 boys - the lowest since 1947.
He also spoke of India's success at the Commonwealth Games, of the 29 medals won by female athletes.
In recent weeks, supports of Modi have been quoted stating their disappointment that the prime minister had not announced any major plans of what his office would achieve.
Previous speeches have been used to criticise arch-rival Pakistan, but Modi broke tradition by highlighting the issue of open-air defecation. He said his government planned to build toilets in every school across the country to encourage girls to attend lessons.
Modi's focus on women's rights and the problem of sexual violence in the country has been praised by Indians on social media, who have commented that the speech was "refreshing".
The issue of rape has been in the spotlight in India since the high-profile gang rape and murder of a 23-year-old physiotherapy student on a moving bus in Delhi in December 2012. Although India tightened laws on sexual violence, a number of highly-publicised attacks have been reported over recent months.