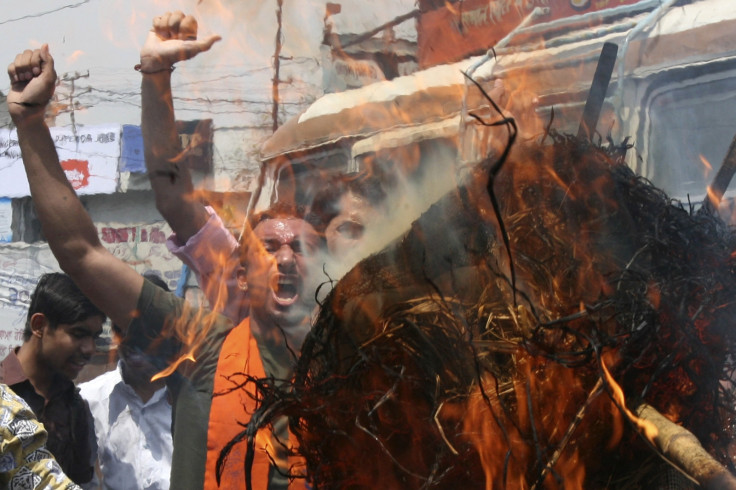 A Muslim was stripped and beaten badly by a group of Hindu men for talking to a Hindu girl in the southern Indian town of Mangaluru, stoking communal tensions. At least 13 people have been arrested for the incident.
The victim, Shakir, was beaten by a group of youths "who belong to the Hindu religion," Murugan, city police commissioner of Mangaluru (formerly Mangalore), told the IBTimes UK. Murugan, who goes by one name, said some of the assailants belonged to the Bajrang Dal, the right-wing organisation linked to several violent incidents in the communally polarised region in Karnataka state. Mangaluru is located about 350km west of Bengaluru (formerly Bangalore).
Shakir, who works in a local grocery shop in the coastal town, is currently being treated in hospital but authorities confirmed he is out of danger. Some reports allege Shakir attempted to molest the girl, who the police commissioner said has filed a complaint.
But local police officials who spoke to the IBTimes UK say Shakir was merely talking to the girl, who works in the same grocery store as him, outside a cash machine. While seeing the pair transacting a purported loan, a group of about 20 men rushed toward them and started thrashing Shakir. He was stripped to his underwear, tied to a pole and flogged for nearly an hour. The episode took place at about 5.30pm local time on 24 August. Police arrested the suspects at midnight. Images shot by some of the suspects have been widely picked up by multiple local media outlets.
When contacted, Bajrang Dal's local representative Ramakrishna Srivastava said they would respond to the incident shortly. Bajrang Dal is known for its moral policing acts in Mangaluru. Several such incidents have taken place in the past, stirring tensions along communal lines.