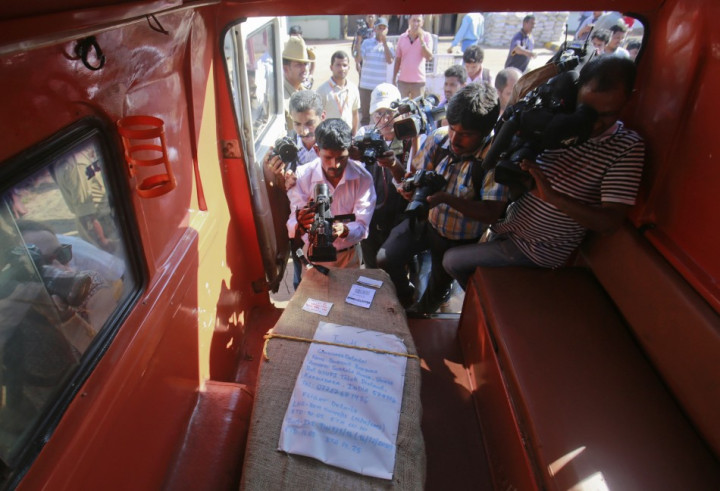 The body of Jacintha Saldanha, the nurse who committed suicide in London after answering a hoax call about the Duchess of Cambridge, has arrived in Mangalore, India, for the funeral.
Saldanha's remains were escorted by her husband Benedict Barboza and her two children.
Saldanha was found hung on 7 December, days after she put through a prank call from two Australian DJs seeking information on the condition of the duchess, who was being treated at London's King Edward VII Hospital for acute morning sickness.
Indian government ministers, local politicians and a large media contingent were present at the airport, along with friends and relatives of the Saldanha family.
Saldanha's husband Benedict Barboza, their daughter Lisha, 14, and son Junal, 16 were mobbed by the media as they struggled to get into the car.
The funeral will be held at Our Lady of Health Church in her home town of Shirva, near Mangalore, on Monday 17 December.
"Jacintha and her family, they were working in the UK to earn their daily bread. The community is sad over the death," Stany Tauro, a priest at the Our Lady of Health Church in Shirva, told AFP.
A church service is scheduled for 4pm local time (10:30am GMT).
"We will miss your laughter, the loving memories and the good times we had together. The house is an empty dwelling without your presence," daughter Lisha said of her mother in a statement earlier in London.
Saldanha left three notes, one of which is said to be critical of her colleagues at the King Edward VII Hospital. The hospital maintained that it had supported Saldanha during the difficult days that followed the hoax call.
Earlier, dozens of Indian students demonstrated at the British High Commission in New Delhi demanding "Justice for Jacintha".
They said "as a person of Indian origin she was isolated, victimised and subjected to harassment by the authorities".
Meanwhile, the hospital in Mangalore where she studied nursing is planning to create an award in her memory.