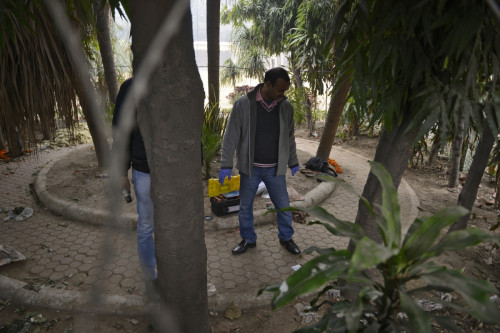 Indian police are searching for at least six more men in connection with the gang-rape of a 51-year-old Danish woman in the capital of New Delhi.
The rapists subjected the victim to hours of torture and one of them swapped his clothes with hers, it has emerged.
Delhi police had arrested two homeless men near the city centre where the sexual assault and robbery took place.
"We have already arrested two of the eight suspects in the case and are still carrying out raids across different locations to nab others," additional commissioner of Delhi Police, Alok Kumar, said.
Police said the woman was raped for three hours at knifepoint. The suspects were said by the accused to be mainly young men.
The woman, who was sightseeing in the city, told police that she was kidnapped, robbed and beaten before being gang-raped. She said that she had got lost and had asked directions back to her hotel from a group of men, who attacked her instead.
The gang took her to an isolated area in Connaught Place, in the heart of the city, where she was robbed of gadgets and cash.
Police said that they had recovered some of the items. One of the arrested men had kept the woman's sunglass case and some cash, while the other suspect was said to have bought a mobile phone using the stolen money.
The Delhi police, who are often criticised for not making the city safe for foreign tourists, said one attacker had left crucial evidence that would help in conviction.
He had swapped his jeans for her tracksuit pants and his clothing would provide crucial DNA evidence.
Cases of sexual assault are being reported more often and getting more media coverage since the gang-rape and subsequent death of a 23-year old paramedic on a New Delhi bus in December 2012.
The Danish foreign ministry said that it hoped the police investigation would lead to "prosecution of the guilty."
"We have in our travel advice referred to the particular risk there is in India for sexual crimes. Obviously we will look at whether we need to sharpen it further," a Danish foreign ministry spokesman said, according to NDTV.