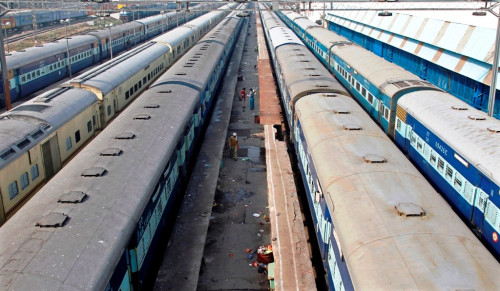 India could soon invite foreign companies to expand and modernise its railways in a move that could attract $10bn (£6.1bn, €7.3bn) in foreign investments into its economy over five years.
The Indian railway network is the fourth-largest in the world.
The reform, which does not need parliamentary approval, could receive the cabinet's nod as early as next week, reported Reuters. Parts of the cabinet note were seen by the news agency.
The proposal is part of a government strategy to boost growth, which hit a decade low of 5% in the 2012-13 fiscal year. It could also improve the ruling coalition's prospects in next year's general election.
Foreign investors could be allowed to fully own new services in suburban areas, high speed systems, and connections to mines, ports and power installations, unnamed officials involved in the discussions told the news agency.
Existing passenger and freight operations would remain under government control.
Slow Trains
British colonial rule built the first railroads in the subcontinent. Train travel is cheap and caters to about 25 million passengers a day.
However, years of underinvestment have rendered the service slow and fraught with accidents, such as the one that killed nine people earlier in the week.
In addition, freight charges have been kept far higher to subsidise passenger services, forcing cargo transport onto congested roads.
While industry has welcomed the planned reform, trade unions and some political parties could oppose it.
"The plan is to allow 100% foreign direct investment in suburban corridors, high-speed train systems, freight line projects implemented through public-private partnership," an official at the Department of Industrial Policy & Promotion told Reuters.
"Bombardier is bullish about the demand and the future prospects of Indian rail transportation industry," said Harsh Dhingra, chief country representative, Bombardier Transportation.
"Multinational companies from North America, Europe, the US and Japan have shown a long-term commitment to set up a base and invest in India to cater to the future demand in the sector," Dhingra added.
"Any fresh impetus to expedite private sector participation on existing project plans, as well as new areas, would be a welcome step in the right direction," said Nalin Jain, South Asian business leader for GE's transportation unit.
"Obviously we will be interested in a joint venture. We are positioning ourselves for that. We expect it will bring very good business opportunity for us as well as for the country," said Sandeep Fuller, chief executive of Texmaco Rail & Engineering, a Kolkata-based wagon manufacturer.
Existing policy has permitted direct foreign investment in urban metro projects only.
Foreign firms' association with the main rail network is limited to selling engines, signalling systems and train carriages to state-run Indian Railways, used by 1.4 million people.
64,000 Kilometre Network
India added 1,750 kms of new railway lines between 2006 to 2011, as against 14,000 kms by China, according to Ernst & Young.
Post independence, the nation has built just 13,000 kms of new railway lines.