As Japan and India issued a joint statement condemning China's assertiveness in the South China Sea, China's influential state-run newspaper has cautioned Tokyo that Delhi will not become a "pawn" in its anti-China stand.
"India is not likely to change its position according to the wishes of Japan," the Global Times said in an editorial on Saturday (12 November). "India will not become a pawn for Japan to contain China, as it wants to become a power on par with China and Japan and benefit from both sides. India will get closer to Japan but will not enter into a 'brotherhood" relationship'", it added.
The newspaper's comments have come after India and Japan, while seeking closer ties, raised the South China Sea issue for the second successive year on Friday (11 November). They mentioned in their joint statement that the warring parties should resolve the dispute peacefully, while dismissing China's "historic" rights over the hotly contested waters.
The statement came after a bilateral meeting between Japanese Prime Minister Shinzo Abe and his visiting Indian counterpart Narendra Modi. They both agreed that the countries should act in accordance with the universally recognised principles of international law including the UN Convention on the Law of the Sea (UNCLOS) and not resort to "threat or use of force and exercise self-restraint in the conduct of activities, and avoid unilateral actions that raise tensions".
The Chinese government's mouthpiece had warned India earlier this week that it could suffer "great losses" in terms of business and trade with the communist country if Delhi got embroiled in the South China Sea row.
Although Japan is not a claimant in the South China Sea, it has locked horns with China over claims in the uninhabited East China Sea.
India-Japan civil nuclear deal
The editorial added: "India takes a multilateral approach to diplomacy and pursues a status as a leading power. Japan's plans are full of antagonism, which contradict India's policies. Therefore India will practically assess specific cooperation with Japan case by case."
It accused Japan of taking advantage of the disputes between India and China to court Delhi to help contain Beijing. It added that Japan was seeking to bring India to "meddle in the South China Sea issue, even at the cost of changing its long-held position of reducing nuclear usage to offer special benefits of civil nuclear cooperation to India".
After nearly six years of negotiations, India and Japan finally signed a landmark nuclear agreement on Friday (11 November), paving the way for Delhi to use it as a possible corridor to claim a membership into the Nuclear Suppliers Group (NSG) that it has long been pushing for. The deal with Tokyo will also open the doors for India to commission nuclear reactors by global entities.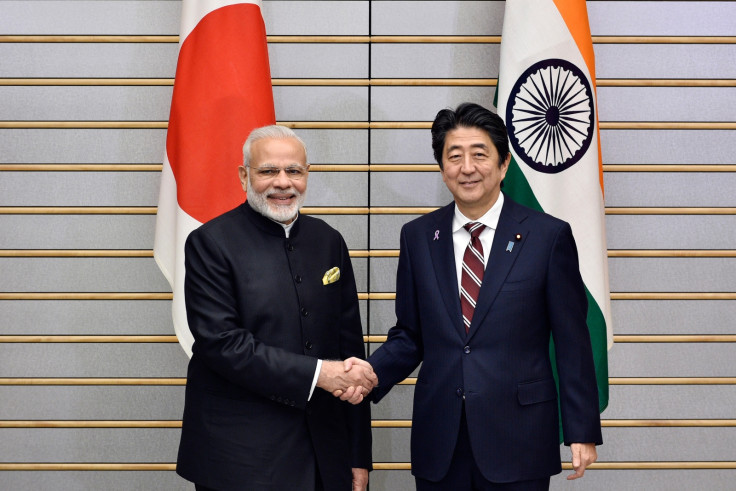 It is reported to be the first time that Japan has signed such a deal with a country that is not a signatory to the Nuclear Non-Proliferation Treaty (NPT), which has left some civil society groups in Japan unhappy.
However, the agreement is said to be strictly for peaceful purposes which Japan can break if it finds India flouting it by conducting a nuclear weapons test. Delhi conducted its last nuclear test in 1998.
The Global Times article also said that despite several problems between the neighbours, India and China were moving in the right direction to improve bilateral ties. And hence, Indo-Japan ties "won't have as much strength to contain China as Abe expects. Lacking long-term strategies, Japan will head down another dead-end route", it concluded.
Another worrisome development for China from Modi and Abe's meeting is the possibility of India and Japan working together on the strategic Chabahar port in Iran. The port gives India access to Afghanistan and central Asia by bypassing Pakistan. China sees this project as a counter to its own Gwadar port in Pakistan's Balochistan province, the $46bn (£35bn) China-Pakistan Economic Corridor (CPEC) connecting Chinese provinces with Pakistan.