Indian Minister says oil importers have upper hand in buyers' market
As new sources of crude oil emerge for global importers, India's Dharmendra Pradhan says buyers' interests must be accommodated.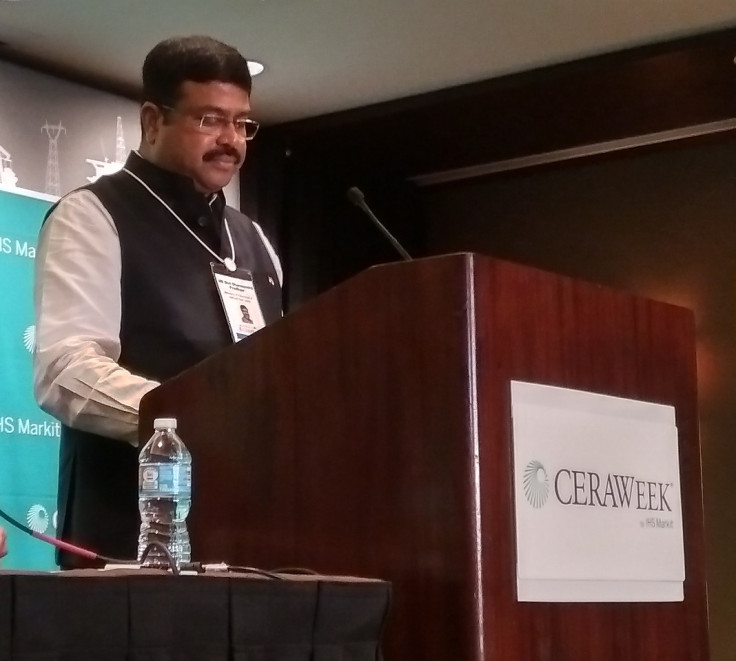 Buyers will dictate the direction of global oil trade, with the industry on the verge of profound supply-side changes, India's Minister for Petroleum and Natural Gas Dharmendra Pradhan said on Monday (6 March).
Responding to a question from IBTimes UK at the ongoing CERAWeek in Houston, Texas, USA, Pradhan said: "There must be a healthy balance between producers' and exporters' interests. As a responsible consumer in a buyers' market, we do not want to jeopardise producers' interest but at the same time our demand for competitive pricing is a valid one."
Pradhan called for major oil importers' needs, including that of his country, to be met on the basis of competitive long-term contracts, which have become the norm in natural gas markets. "I think the time has come for the oil industry to be similarly flexible."
Diversity of supply is visible, Pradhan said, admitting that India would be open to importing crude oil from the US, where production was rising and exports were now legally permitted.
"Not just the US, India would be looking to buy competitively from Latin American and African exporters in incremental volumes."
The minister's remarks follow those of the International Energy Agency's executive director Dr Fatih Birol who briefed CERAWeek that India was likely to overtake and supplant China as the leading importer of crude oil in the world.
In the past, Pradhan has voiced strong opinions on the relationship between oil producers and importers.
In a no holds barred speech at the Opec seminar in June 2015, with the oil price slump manifestly apparent at the time, Pradhan said there was a strong feeling that Asian countries like India should receive an 'Asian dividend' rather than paying an 'Asian premium' while making bulk purchases of crude, given the amount they buy, and with the direction of crude cargoes increasingly heading to the continent.
"I will not hesitate to say that Asian premium was historically never justified and more so not justifiable in the changed market scenario where Asian countries are the major buyers," the minister remarked at the time.
Asked if his views had altered in the intervening period, and if Opec was listening, Pradhan said:"I still stand by my remarks [at the Opec seminar] back in 2015. Opec is listening to us and cooperating. But of course, Opec is only one of a number of global oil production sources accounting for less than 50% of global production. It is good news that new crude exporters such as the US are emerging."
© Copyright IBTimes 2023. All rights reserved.