Indian riot police use chilli grenades after protestors blinded by pellet guns
Riot police will also be allowed to use water cannon and sonic weapons in Kashmir.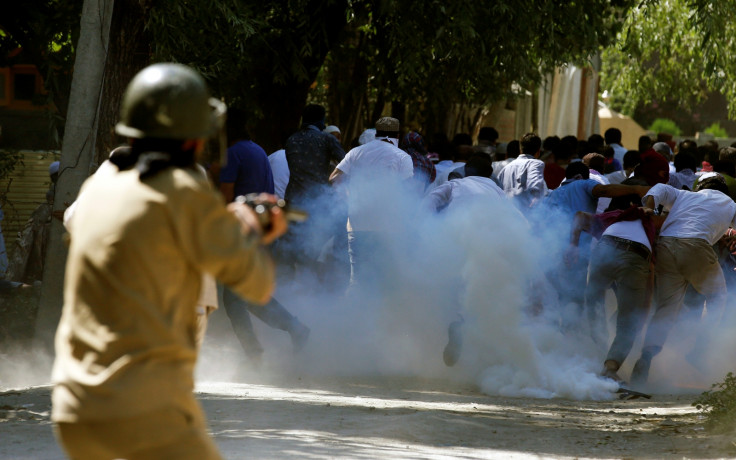 The Indian government has given the go-ahead for riot police to use chilli pepper grenades against protesters in Kashmir.
The move comes after the use guns which fire a cloud of around 500 pellets, have blinded more than 100 people and left scores injured during the unrest that has followed the death of rebel leader Burhan Wani in a shoot-out with Indian forces.
A panel convened by India's Ministry of Home Affairs recommended the use of the grenades as a safer alternative to the pellet guns. But they refused to rule out the guns entirely, saying they will be held in reserve for emergencies.
The grenades are thought to contain extracts of Bhut jolokia, also known as the ghost chilli.
Formerly the hottest chilli in the world, the ghost chilli measures more than 1,000,000 units on the Scoville scale, making it about 100 times hotter than an average jalapeño and Scotch Bonnet. The ghost chilli is so powerful, it hospitalises people who attempt to ear it.
The effects of the grenades can be "felt within a radius of up to 3-4km from where it is deployed", according to India Together.
"Your throat starts burning and itching and you can go on coughing violently for almost an hour and a half," says the news site. "The eyes start watering and this, too, continues for hours. It is really a horrific and frightening sensation."
The chilli grenades have been used by Indian forces since 2009, as part of a move towards dealing with "low-intensity conflict".
"[The grenade] gives out such pungent smoke that it makes one come out of one's hiding place," said RB Srivastava, a senior scientist and director of the India's Defence Research and Development Organisation. "The war scenario is changing. Low-intensity conflict is the norm of the day."
Use of the grenades has been condemned by Amnesty International, which has identified them as having the potential to "cause serious injury and even death".
Chilli grenades have been used in Kashmir before, with fatal consequences. In 2013, a 60-year-old woman in Srinagar died of an asthma attack reportedly brought on by the fumes.
Paul Bosland, professor of horticulture at New Mexico State University and director of the Chile Pepper Institute, who discovered the ghost chilli has said that eating the plant can be lethal.
"Theoretically, one could eat enough really hot chiles to kill you," he told Live Science. "A research study in 1980 calculated that three pounds of extreme chilies in powder form — of something like the Bhut Jolokia — eaten all at once could kill a 150-pound person."
© Copyright IBTimes 2023. All rights reserved.