The Obama administration has slapped fresh sanctions on Russian businesses over their continuing support for Ukrainian rebels. A new blacklist announced on Thursday (1 September) has targeted companies that are part of constructing a multi-billion dollar bridge that is said to be linking Russia and Crimea in Ukraine.
Expanding its sanction, the US treasury department added dozens of people and companies to the latest list. It includes maritime and defence businesses, and seven companies that are directly involved in constructing the 19km (11.8 miles) road-and-rail bridge across the Kerch Strait.
Constructed at an estimated cost of Russian rouble 212bn ($3.2bn, £2.4bn) the stretch is popularly dubbed as the "Putin bridge" by Moscow and is said to be an important project for its President Vladimir Putin personally. It connects the Russian mainland and the annexed Crimea and if completed could reportedly be the longest dual-purpose span in Europe.
Besides, multiple subsidiaries of Russian gas giant Gazprom and 11 Crimean officials have also been added to the blacklist. Reuters reported that the restriction, however, does not apply to financial services that clear transactions or those companies that provide insurance for such projects.
One of the main companies that have been blacklisted is construction giant SGM-Most. It is a subsidiary of a lead contractor that is already under US sanctions. Along with it, one of Moscow's biggest bridge constructors Mostotrest also faces sanctions.
"Treasury stands with our partners in condemning Russia's violation of international law, and we will continue to sanction those who threaten Ukraine's peace, security and sovereignty," John Smith said. He is the acting director of a Treasury's office that imposes sanctions.
The news agency said the Russian Foreign Ministry was not available for comment. However, Moscow has previously said that sanctions on the country over its annexation of Crimea do little to help solve the conflict.
Officials who are linked to the construction of the bridge have also said the sanctions will not stop their project and that the contractors have "all the resources necessary" to build it without any help from the West.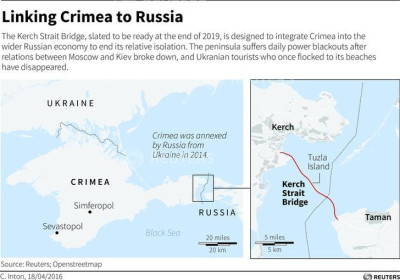 Since the time Russia formally annexed the Crimean peninsula from Ukraine in 2014, more companies and individuals have been slapped with sanctions by the US and European Union. Russians and Crimean businesses have been sanctioned at least five times between March and September 2014.
The sanctions will lock those who are blacklisted out of financial systems across the world. It is said to result in limiting their ability to do business as US individuals and companies will be barred from engaging in commercial transactions with them.