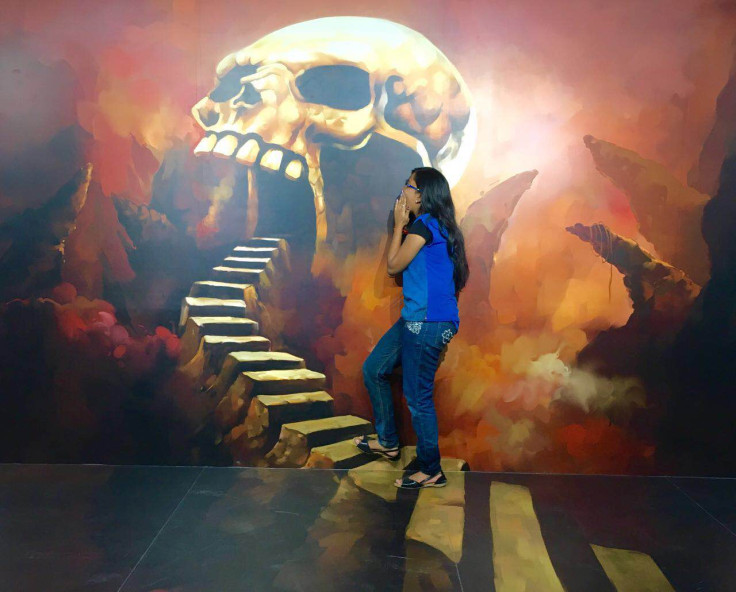 Scores of art lovers continue to visit the art gallery in the southern Indian city of Chennai where the country's first 3D paintings are being displayed. The facility is believed to be the first of its kind to host such art paintings, known as "Optical art" or "3D art".
At the Click Art Museum located near the beach shores in Chennai, 24 "interactive" paintings have been put up for exhibition. The paintings are the work of AP Shreethar, a Chennai-based artist.
Firnas Hussain, the manager of the museum, told IBTimes UK: "This is the first time in India such an attempt has been made. Though 3D art museums have been set up in foreign cities like Singapore, Hong Kong and Bangkok, Indians have never truly witnessed these. Also, the entry price for the museum has also been significantly cheaper compared to those abroad." Tickets for adults cost Rs150 (£1.5) while for children, the museum charges Rs100 (£1).
Taking a selfie with a gorilla and rowing a boat in Venice's waters are among the top attractions, says Hussain. Though children have found a particular interest in the paintings, visitors include people from all age groups.
When asked about the success of the initiative, Shreethar, the man behind the artworks, told us: "For regular paintings, only serious art lovers will find them interesting. But we have an overwhelming response for the 3D works primarily because these works are 'interactive'. They embrace the viewers to become a part of the painting themselves. In another word, the paintings are only half-done and it is the visitors who fill the gap."
Shreethar also has a backup of 40 other 3D works that he is waiting to showcase in other museums across India. He said he has already received offers to set up similar works across several Indian cities including Mumbai, Bengaluru and Hyderabad.
Take a look at some of the works that are on display at the museum.