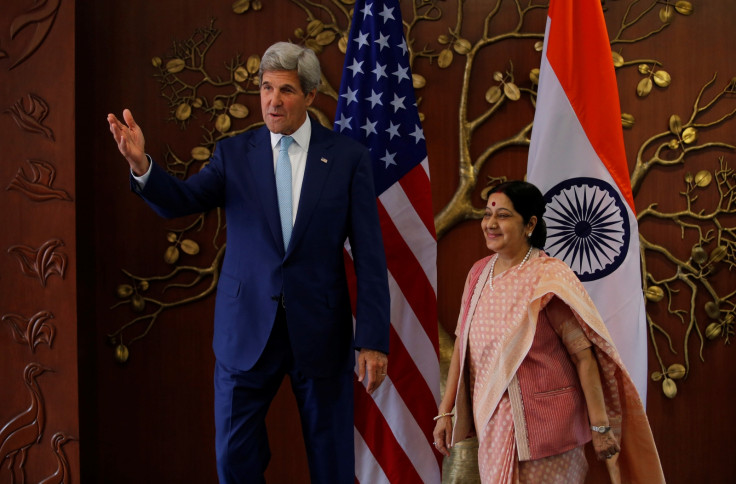 Chinese state media has said that any attempt by Delhi to get closer to the US could "irritate" China and Pakistan, or even Russia.
US Defence Secretary Ash Carter and his Indian counterpart Manohar Parrikar signed a Logistics Exchange Memorandum of Agreement on Monday (29 August). The deal will enable the countries to access each other's naval, land and air bases for refuelling and replenishment.
An editorial in the state-run Global Times – written before the pact was signed – agreed that it was "undoubtedly a leap forward in US-India" ties. At the same time, it cautioned that India may lose its "strategic independence" if it leans towards the US.
"[The] US media highly applauded this deal, with Forbes hailing it as a 'war pact' and believing that India is shifting away from Russia, its Cold War ally, toward a new alliance with the US," the editorial says.
"It is possible that the Modi administration is trying an unconventional way to lean toward the US with the logistics agreement," the editorial reads. It cautioned that the deal would bring "strategic troubles" to Delhi and "make itself a centre of geopolitical rivalries in Asia".
Parrikar clarified that the new deal would not allow for US bases to be set up in India. Besides, American troops will not be stationed in the country.
Meanwhile, US Secretary of State John Kerry is in New Delhi along with US Secretary of Commerce Penny Pritzker to hold talks with Indian External Affairs Minister Sushma Swaraj and Commerce and Industry Minister Nirmala Sitharaman. India-US trade reached $109bn (£83) in 2015, up from $37bn in 2005.
Among the issues to be discussed are improving business and tourism ties, sustainable economic growth, job creation and ratification of the Paris climate deal. India is also expected to seek more US help in securing membership of the 48-member Nuclear Suppliers' Group (NSG). India's earlier attempt to enter the elite club was thwarted by China.
Kerry is also expected to meet Indian Prime Minister Narendra Modi on Wednesday (31 August).