India's opposition party starts 'State Bank of Tomato' to counter skyrocketing prices
The Youth Congress of Lucknow is offering loans, locker facilities and interest rates on deposits of the vegetable.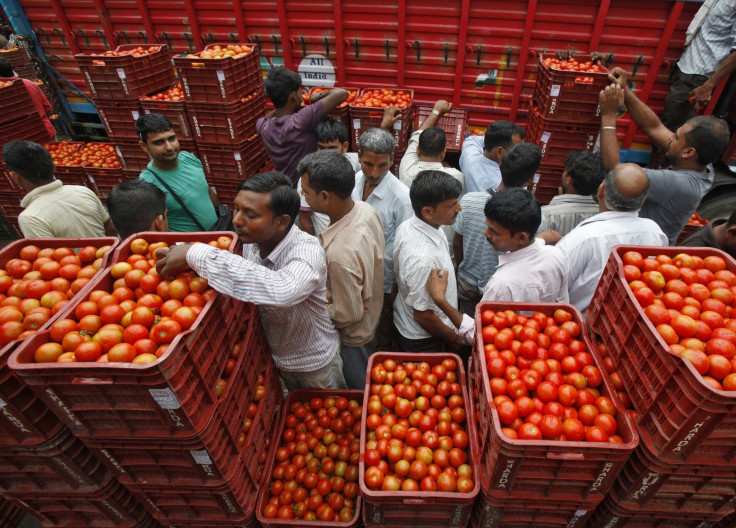 Tomatoes have become a luxury in most kitchens across India, after prices of the vegetable skyrocketed in the past month. From an average cost of Rs 30 (0.61$/0.36£) in June, prices more than tripled to Rs 100 in late July, following an erratic monsoon season that affected production.
Now, the opposition party has decided to protest the rising prices in a unique way – by starting a bank where customers can make deposits by the kilo. The Youth Congress of Lucknow in the North Indian state of Uttar Pradesh has opened the first State Bank of Tamatar (Tomato).
According to Asian News International (ANI), the 'bank' operates daily from 10am to 5pm and provides a range of services, from locker facilities, loans to purchase tomatoes and juicy interest rates to those looking to invest.
The whole concept is a satire than sound investment, and people have actually taken to depositing their stock on tomatoes as a protest against the rising prices.
According to the news agency, one centenarian customer voiced disappointment that he would have to wait six months to watch his deposit of 0.5kgs double to 1kg. "I'm 103-year-old, never thought I would have to see this," Srikrishna Verma said.
While heavy rains and drought are most often the root cause of high prices, farmers in many states blame to government for not providing proper storage facilities for produce.
Earlier this year, prices of tomatoes dropped considerably due to the bumper crop and farmers in the state of Madhya Pradesh resorted to letting their vegetables rot rather than sell them at a measly Rs 2 per kilo.
Those in the field are forced to sell at low cost to traders who then hoard the stock to create more demand before and up the market price. "We have noticed that whenever farmers have perishable items with them, the prices are in the dumps, and the moment it goes into the hands of traders, there is a massive price spike," Bhupendra Patidar, a farmer from Barbariya village in Neemuch district told Hindustan Times.
© Copyright IBTimes 2023. All rights reserved.