India's fifth-largest private sector bank, Yes Bank, is setting up shop in the UK as it looks to tap into the growing investor appetite for one of the world's fastest-growing economies.
IBTimes UK caught up with Rana Kapoor, the bank's founder and chief executive, to talk about his plans for the company and how India's prime minister, Narendra Modi, is fostering growth.
Expansion
"We are planning to build a presence in London, New York and Singapore over the next five years. Our aim is to attract international investors from all over the world. The UK is a very important place to be, we want to tap into the business community in Britain and use the country as a platform for growth in Europe," Kapoor opens.
Yes Bank's commercial and retail operation has 675 branches in India, a presence in all 29 states and 7 union territories and over 2 million clients. The bank reported profits of around £202m ($313.6m) last year, up 15%.
As part of its foray into the UK, Kapoor is planning on opening branches, pending regulatory approval.
India
Kapoor wants Yes Bank to act as a platform for those wishing to tap the growing Indian market.
"India is one of the most spectacular investment opportunities in the world," Kapoor said.
He also lauded the economic reforms initiated under Narendra Modi, who was elected as India's prime minister in landslide election victory in 2014.
"PM Modi is performing par excellence. There has been significant interest in all sectors since he came to power, he has injected confidence across the board. The micro detail, the ease of doing business and his stance on tax are good signs."
Kapoor's comments come despite several experts voicing concern about progress under Modi.
British investment
Kapoor, who is also president of the Associated Chambers of Commerce of India, is keen to strengthen business ties between India and the UK.
"The UK/India relationship is strategic, supportive and based on mutual respect. India is a bigger investor in the UK than the other way around – Jaguar Land Rover being the most famous example – but it's only a matter of time before meaningful UK investment into India happens in sectors such as defence, railways, aviation and banking," Kapoor said.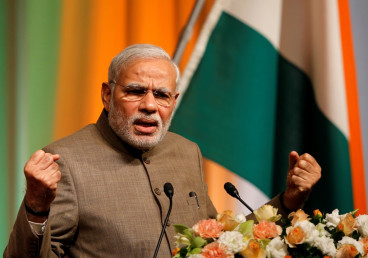 Foreign investment hasn't been as forthcoming as had been hoped under Modi's BJP government, with the prime minister being hampered by problems of centralism versus federalism. In addition, a retrospective tax cloud refuses to shift.
Nevertheless, Kapoor is adamant that India remains an exciting prospect.
"Modi's government has opened up numerous sectors and UK corporates are getting excited about the opportunities."