Indonesia has been blowing up foreign boats confiscated for fishing illegally in the country's waters. Twenty-three boats – 13 from Vietnam and 10 from Malaysia – were blown up simultaneously in seven different ports on Tuesday (5 April).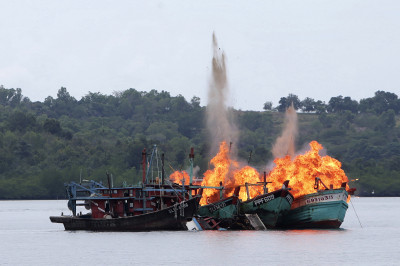 Minister of Maritime Affairs and Fisheries Susi Pudjiastuti witnessed the destruction, which was coordinated by the navy, coastguard and police, via live-streamed Internet video at her office in Jakarta. Pudjiastuti has overseen the confiscation of nearly 200 illegal fishing boats from several countries after declaring a fishing moratorium for foreign vessels.
Indonesia, the world's largest archipelago nation, has taken a tough stance against illegal fishing since President Joko "Jokowi" Widodo took office in 2014. A total of 174 illegal fishing boats have since been blown up. The fate of 20 others await court rulings.
Last month, Indonesia destroyed the Nigeria-flagged Viking with explosives. The ship was wanted around the world for illegally taking Patagonian toothfish from southern waters.