Indonesia: Isis bombmaker smiles as he is sentenced to 10 years for role in Jakarta attacks
In accepting the verdict, Dodi Suridi, 23, said that it was 'the risk of being a terrorist'.
An Islamic State (Isis) bombmaker reportedly smiled as he was jailed for 10 years on Thursday (20 October) for his role in a bomb and gun attack in Indonesia. Four civilians and five terrorists died during the terror attack in Jakarta in January 2016.
Dodi Suridi, 23, a supporter of Isis (Daesh), helped to make one of the bombs used on the day of the attack, which became the first major terrorist incident in Indonesia for seven years and the first to be claimed by IS extremists in the country.
Suridi, who pledged allegiance to IS in 2014, was found guilty of committing an act of terror whilst a second IS supporter, Ali Hamka, 48, was jailed for four years for attempting to source guns and ammunition for the terrorists.
A total of 40 people have since been arrested by the Indonesian government.
According to AFP, as Suridi was jailed he said that he accepted the verdict as "the risk of being a terrorist," before yelling "Allahu Akbar" — or "God is great"— as he was led away.
During the attack a suicide bomber blew himself up in a Starbucks coffee shop and security forces battled militants — with some being shot dead outside a theatre around Thamrin Street, a shopping and business area near the United Nations (UN) offices in the city.
Suridi was accused of altering gas canisters inside bombs, for an attacker who detonated a device at a police checkpoint. Although Hamka did not manage to obtain the guns, he was still found guilty of breaking anti-terror laws in the world's most populous Muslim-majority country.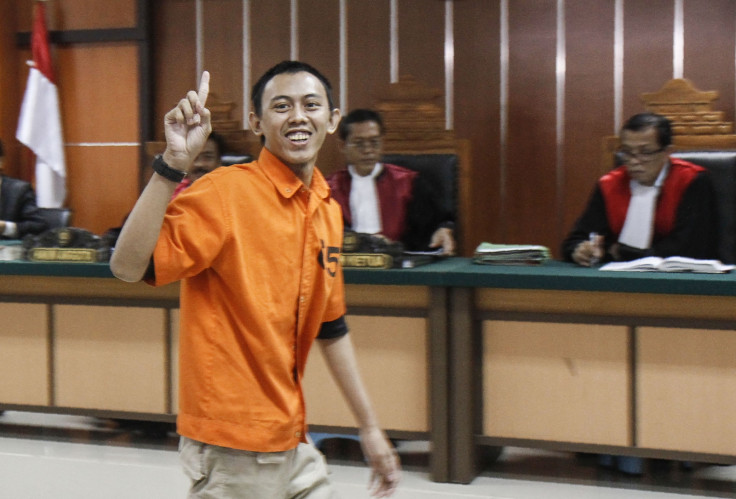 Suridi was arrested the day after the attack and alleged to have transported the canister and the casing for a pipe bomb to Jakarta. During the hearing, the pair had made the IS gesture of holding one of their fingers in the air, pointing at the sky.
According to the BBC, Judge Achmad Fauzi said that Suridi had "disturbed the community and shaken the life of our nation" with the 14 January attack that was believed to have been organised by a faction pro-IS cleric.
Also on Thursday, a suspected Islamist militant was shot by Indonesian police after he attempted to stab officers with a machete in the Indonesian capital city. The alleged terrorist was wounded in the leg and three officers, including a local police chief, were injured in the attack.
© Copyright IBTimes 2023. All rights reserved.