At the meeting of the biggest worldwide convention on the wildlife trade, delegates voted to move all eight species of pangolin to the CITES appendix 1 – heavily restricting trade in the animal to aid attempts to protect it from extinction. Intense hunting and trade in pangolin products has meant the creature is often known as the most trafficked animal in the world.
A number of international wildlife charities supported the move and the Secretariat of the Convention on International Trade in Endangered Species of Wild Fauna and Flora (CITES) had previously recommended that all pangolin species proposed should be put under the new protections.
Of the four Asian pangolin species, the Secretariat said that they had "undergone past and projected severe population declines" and recommended their inclusion in the top appendix. Of the four African species, they said there was insufficient information to determine population but that "due to past, ongoing, and projected future significant overharvesting for trade, the four species are projected to undergo marked declines of their populations in the wild."
CITES protects and regulates trade in over 35,000 species and is one of the largest conservation agreements with 183 countries taking part – each of which has voluntarily agreed to be bound by the convention. The vote bans commercial trade in pangolins and pangolin products almost entirely.
VP of international policy at the Wildlife Conservation Society, Susan Lieberman, said that the decision gives pangolins a "fighting chance": "The world is standing up for the little guy with this pivotal decision for greater protection of the pangolin. These species need extra protection, and under CITES Appendix I, they will get it."
Pangolins are mostly threatened by trade in their meat and scales – used in some traditional Asian medicines. Most pangolins are listed by the IUCN red list as vulnerable, with some thought to be critically endangered.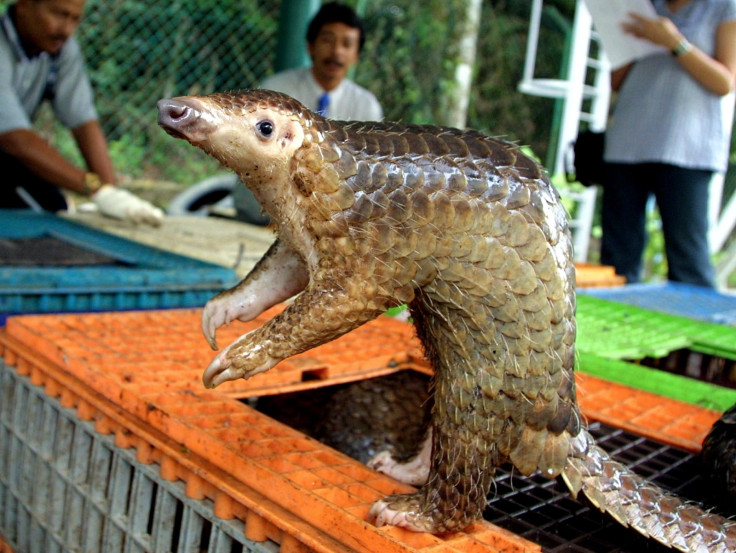 China is the largest market for pangolin products with authorities sometimes seizing huge shipments. The World Wildlife Fund says that between 2011 and 2013, around 116,990 to 233,980 pangolins were killed for trade – but those numbers come from seizures which could only represent as little as 10% of the real figures.
Species of pangolin are found over southern Asia and Africa. Though covered in reptile-like scales, pangolins are mammals and will roll into a ball to protect themselves. The name pangolin comes from a Malay word that means 'something that rolls up'.
The 17th CITES conference of parties is currently taking place in Johannesburg, South Africa until 8 October where parties will decided whether to keep protections on certain species and increase the protections on others.