Malaysian authorities have seized more than $2m worth pangolin scales at Kuala Lumpur airport, in what is seen as the largest smuggling case involving the little animal in the country. Some 1,400 pangolins may have been killed to yield this huge amount of scales.
Pangolins are often described as the world's most hunted animal, as extreme hunting and trade of their parts push the mammals to the brink of extinction. The mammal is in great demand in Asia where it is considered by some to have medicinal properties.
Customs officials said on Monday (8 May) that they seized 712kg of pangolin scales - in two separate shipments from Africa - at the airport's cargo warehouse in the past week, Reuters reported.
On 2 May, eight gunny bags of the scales weighing 408kg were recovered. The bags reportedly arrived on a flight from Accra in Ghana via Dubai on Emirates Airlines.
The second shipment was made two days later, and Malaysian authorities seized 304kg of the scales packed in 10 sacks. These were reportedly on a flight from Kinshasa in the Democratic Republic of Congo to Nairobi on Kenya Airways, from where they were transferred to an Emirates Airlines flight to Kuala Lumpur via Dubai.
The sacks were transported using false documents, Customs Department assistant director-general Paddy Abdul Halim said.
"We are still investigating whether the two shipments are linked," he said.
The scales could fetch up to Malaysian ringgit 1,500 ($346) per kilogram on the Malaysian black market, although its value varies according to the region, Paddy added.
No one has been arrested in connection with the seizures as no recipient could be traced. It is also unclear if Malaysia was the final destination for the pangolin scales.
It is believed that such shipments sent to Malaysia were usually meant for Vietnam and China, Wildlife and National Parks Department deputy director of enforcement Rozidan Md Yasin said.
The scales are reportedly considered a delicacy in China, according to AFP.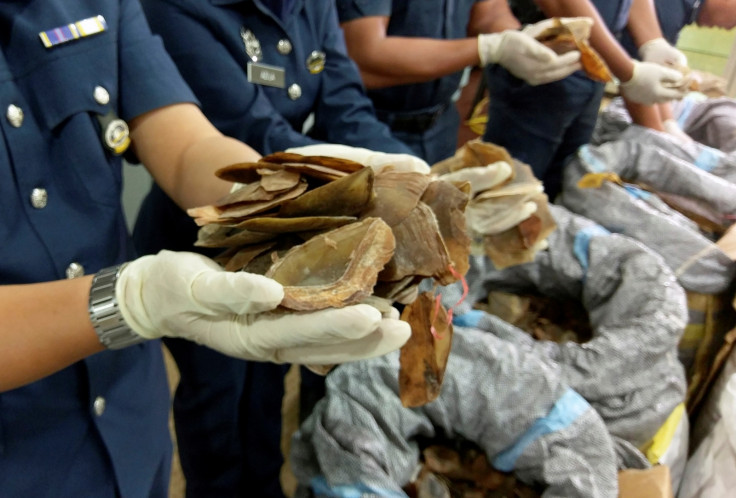 Smuggling of parts of endangered species is illegal in Malaysia and if convicted a person can face a minimum fine of 10 times or a maximum of 20 times the amount of the customs duty or Malaysian ringgit 100,000, and/or imprisonment not exceeding three years.
Eight species of pangolins are found in southern Asia and Sub-Saharan Africa. They range from 30cm to 100cm (12 to 39in) in length.
Pangolins' survival has raised concern for wildlife conservationists in recent years. A study published in Conservation Letters indicated that more than 21,000kg of scales and 23,109 pangolins were trafficked in a total of 206 seizure reports between January 2008 and March 2016. This means that around 66,000 pangolins have been killed in that period.