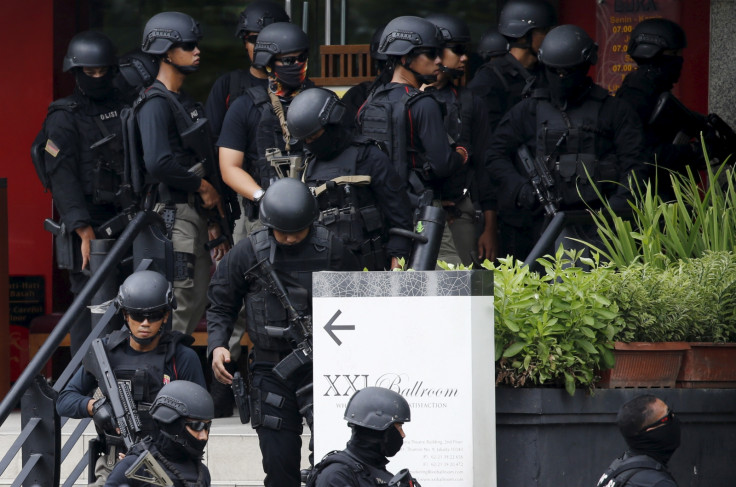 A suspected Islamist militant was shot on Thursday (20 October) by the Indonesian police after he tried to stab officers with a machete in the capital city of Jakarta. AP citing Jakarta police spokesman, Awi Setiyono, reported that three officers including a local police chief were injured in the attack.
However, the man, identified as Sultan Azianzah, was shot in the leg to disable him. He is now in police custody. "The perpetrator was shot but he's still alive. We suspect the perpetrator is an ISIS sympathizer," National Police spokesman Boy Rafli Amar told Reuters.
Local news agency TVOne reported that Azianzah was first seen roaming around a busy city road carrying weapons including what is believed to be a pipe bomb. At one point he ran towards a police officer.
The incident occurred when police were monitoring a Thursday morning protest in the satellite city of Tangerang.
Setiyono said the 21-year-old attacker was unemployed and a member of Daulah Islam, a hardline group in Ciamis in West Java province.
A knife, two machetes, pipe bombs and an Islamic State (Isis) sticker, which he tried to put on a police post, have been seized from him. Authorities believe he came to greater Jakarta with the intention of attacking the police, a frequent target of Islamic militants in Indonesia.
The recent attack comes after a series of Islamic State (Isis)-linked assaults starting in January, which claimed the lives of eight people including militants. In July, a radical blew himself up at a police station in the town of Solo, injuring one police officer.
Authorities in the world's biggest Muslim-majority country fear the militants could prove a major threat in the region by getting in touch with local extremist groups.
As a precautionary measure, officials are closely monitoring the movement of at least 40 militants, who are reported to have returned to the country after serving the IS (Daesh) group in Syria. They have also detained about 10 of the suspected militants for inquiry.