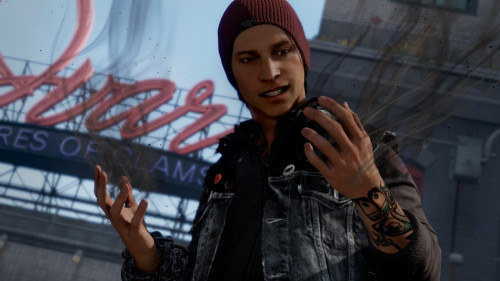 Video game retailers and publishers have already tried offering action figures, in-game goodies and other items along with pre-orders. Now, GameStop Italy is taking an unorthodox approach.
Fans of inFAMOUS Second Son will receive glow-in-the-dark condoms from GameStop Italy when they pre-order the upcoming game.
There's no information on whether the condoms will help players with gameplay. Apart from the fluorescent condoms, GameStop is throwing in two cans of Red Bull so that players can go on all night.
At first sight, condom use and all-night game-playing seem unlikely bedfellows, but that hasn't stopped GameStop from gleefully proclaiming its special offer.
"A fill of energy for an explosion of pleasure!" reads the translated bold print at the top of the box, according to Eurogamer. "Enjoy your power!" it says below in English.
"Only from GameStop, book InFAMOUS Second Son and receive the Exclusive Kit * Preorder, GameStop, game containing 2 cans of RedBull and a box of condoms fluorescents," says a loose translation from Gamenguide.
"This offer is valid until stocks last. ANY GADGETS AND DLC CODES WILL BE DELIVERED ON THE DAY OF THE GAME AT THE TIME OF PURCHASE. Offer valid until the day before the release of reserving the game. Some restrictions may apply. Ask our staff for clarification."
So what does inFAMOUS Second Son have to do with sex? Not very much, to judge by the trailer.
Exclusive to Sony's PlayStation 4, inFAMOUS Second Son is scheduled for UK release on 21 March. Expect a PS4 game bundle at the same time.
Watch a trailer for inFAMOUS Second Son on YouTube, below: