Infosys Shares Surge on Company's Call for Narayana Murthy Return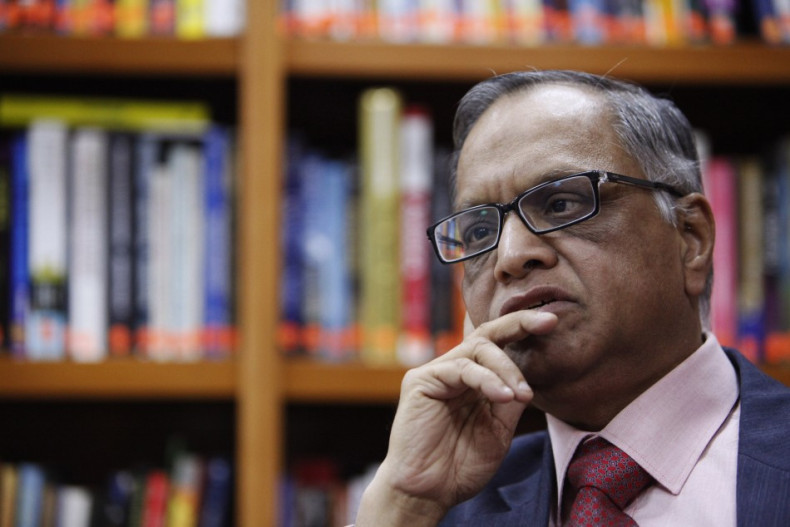 Shares of Infosys, India's second-largest computer software exporter, closed 4.4% higher, but not before surging 9% in early trade, after it asked co-founder N R Narayana Murthy to return as executive chairman.
Infosys ended the day at rupees 2513.95 (£29 / €34.8).
The sectoral S&P BSE Infotech index closed 1% higher at the end of day's trade, while the benchmark S&P BSE Index shed 0.76% to 19,619.48.
Analysts at top international brokerage firms have welcomed the announcement and believe it could boost investor confidence in the former information technology (IT) bellwether.
Infosys has been struggling to grow over the last two years. The company's big clients in the US and Europe have been cutting costs, hurting its earnings, while rivals such as TCS and HCL Technologies have eaten into its market share.
Below are the views of five brokerage houses on Infosys, on its revival and its stock price:
Barclays: Maintains 'Overweight'; Target Price at rupees 2750 (£31.8 / €37.8)
Barclays is of the view that the return of the Infosys founder is positive. While the focus of the company should remain on longer-term growth, Barclays hopes that the company also focuses on a few steps with quicker returns.
These are 1) Communication strategy, 2) CEO succession, 3) Cash management and 4) Cost control. The Infosys stock has exhibited high volatility around earnings with the shares moving more than 5% on six out of past 10 quarterly results. The investment bank is of the view that the weak performance could be one reason behind higher volatility. However, it also notes that despite weak performance, peers like Wipro have exhibited lower stock volatility and a more stable guidance philosophy.
Citigroup: Maintain 'BUY'; Target Price at rupees 2695 (£31 / €36.6)
Citigroup is cautious against high hopes in the near term as it may take some time for the business to turn around. However, Infosys remains one of our top picks in the sector.
Murthy's return in an executive role should also boost the employee morale. High attrition has been a big challenge in the recent past. Articulation of any changes to strategy and clear direction on cash usage are the next key things we would watch out for.
CLSA: Maintains 'Outperform'; Target Price at rupees 2605 (£30.1 / €35.3)
Murthy's return indicates the company's acknowledgement of its troubles. The IT major is facing a huge credibility deficit among its stakeholders of late.
Murthy's return should definitely bring back the operational and review rigour which has been missing during the current CEO's tenure and has resulted in an unidirectional slide in margins and a continuous miss on the company's own financial guidance. While the stock will react positively, expecting Murthy to deliver immediate success is unreasonable. Additionally, improvement in communication with investors should bridge the trust deficit which was developed over the past 12-18 months.
Goldman Sachs: Maintains 'Neutral' Rating; Target Price at rupees 2380 (£27.5 / €32.8)
Given lower IT growth and a more intense competitive landscape, we will wait to see how Infosys changes its strategy to return to a growth path. We believe that Infosys's earnings visibility will remain poor in the near term as it faces growth/margin trade-off amid modest IT spending.
We forecast 8% USD revenue CAGR in FY13-15E as compared to 16% for TCS. Infosys may witness decline in FY14E EPS driven by a loss in revenue market share, pricing pressure in its AD&M business, and a 250bp EBIT decline.
Morgan Stanley: Maintains 'Overweight'; Target Price at rupees 2890 (£33.4 / €39.2)
Morgan Stanley believes that Murthy's presence should help strengthen market perception about the leadership and improve execution at Infosys. With Murthy's addition to the leadership team, the bottom for the stock is now behind it.
However, the pace of improvement in reported financials could take 2-3 quarters. Morgan Stanley is of the view that Murthy could also help Infosys better navigate the uncertainty around US immigration issues.