A few desperately sick children have been evacuated to hospitals in Damascus from the besieged rebel-held enclave of Eastern Ghouta, but many more remain, with little hope of treatment or survival.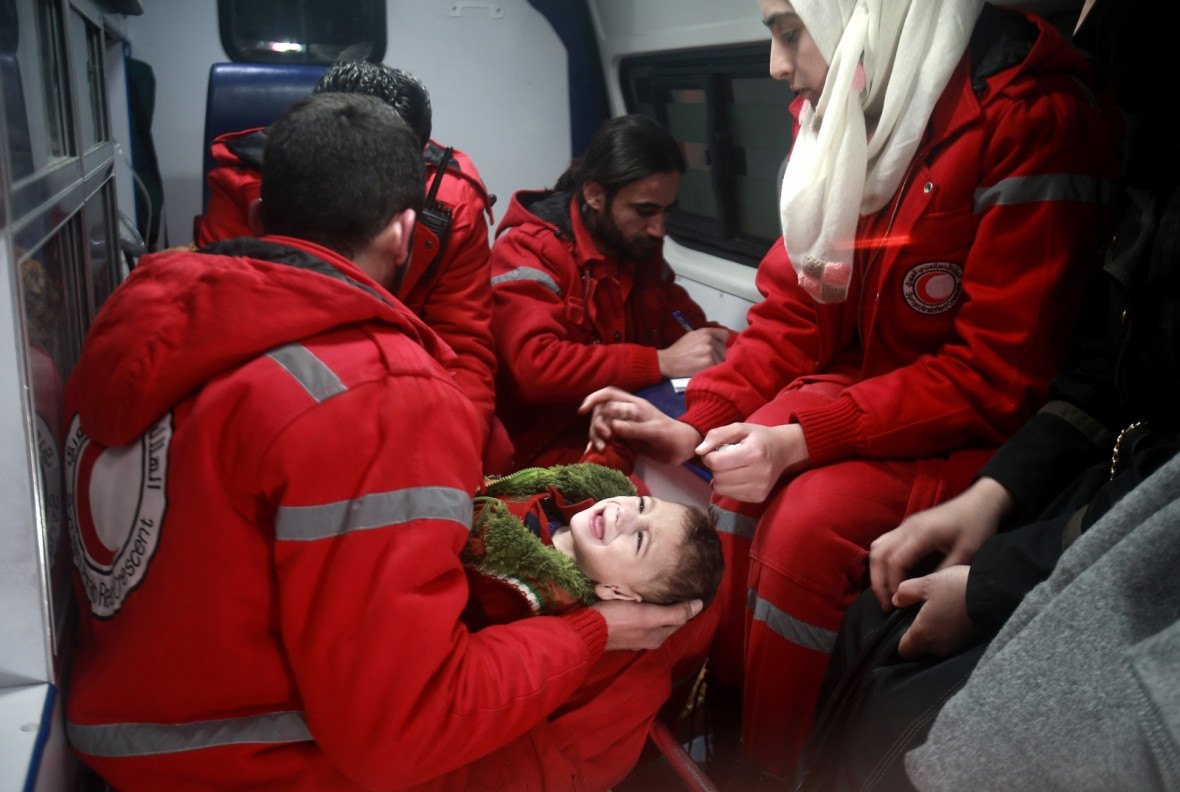 The United Nations has been trying to negotiate the evacuation of nearly 500 patients, including children with treatable forms of cancer. The UN's children agency has said that 137 children require immediate evacuation for conditions that also include kidney failure, severe malnutrition and conflict wounds.
So far, four patients have been taken to Damascus for treatment, the first of 29 critical cases approved for medical evacuation, with the remainder being evacuated over the coming days.
Syrian American Medical Society (SAMS) advocacy manager Mohamad Katoub tweeted that five had been approved for the first group of evacuations, part of a deal on an exchange of detainees between Assad's government and rebel group Jaish al-Islam. Reuters say it is not clear why only four of the five had left. The Syrian Red Crescent said the evacuations were the result of "long negotiations".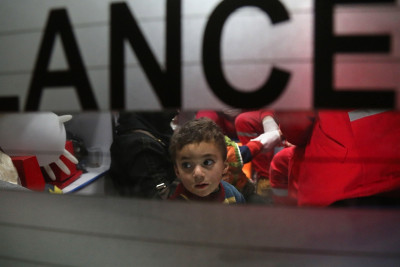 Humanitarian officials warn that conditions outside Damascus have reached crisis levels, with the government maintaining a siege on the Eastern Ghouta suburbs that has trapped around 400,000 people without enough food, fuel or medicine for the winter.
They say patients with empty stomachs and kidney failure are dying in their beds while waiting for evacuation to hospitals just minutes away.
President Bashar Assad's forces, supported by Russia and Iran, are blocking trucks filled with humanitarian relief. Jan Egeland, the UN humanitarian adviser for Syria, said the number of people on the priority list for medical evacuations "is going down, not because we are evacuating people but because they are dying. We have tried now every single week for many months to get medical evacuations out, and food and other supplies in."
Much of the country, including the hilly terrain around Damascus, sees freezing rain and snow in the winter months. Egeland said that 12 people have died waiting for medical evacuation from Eastern Ghouta.
Children with wrinkled faces and arms like sticks are going hungry or dying because of the ongoing war. According to the UN, roughly one in eight children are malnourished in Eastern Ghouta — a shocking jump from one in 50 in May.
"We have people here who are only eating a meal every two or three days," Ismael Yasin, a member of Eastern Ghouta's local council told The Associated Press via Skype. "People's faces are turning yellow from hunger."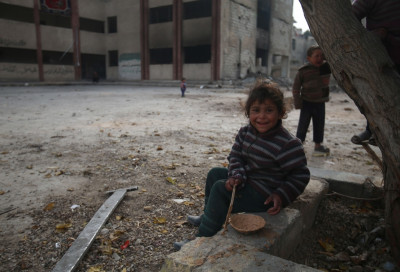 The Syrian government and its opponents wrapped up another fruitless round of talks in Geneva on Thursday (21 December). The fighting in Syria's nearly seven-year war has tapered offin many areas since local cease-fires took hold, but the suffering in Eastern Ghouta — Damascus' once fertile hinterland, now cut off from the world — has only become worse.
The head of the opposition's delegation, Nasr Hariri, said the impasse on Eastern Ghouta reflected the international community's "shame, impotence, and dereliction". "It's shameful that we have to go into negotiations so that they (the government) give us some loaves of bread," said Hariri.
The UN envoy to Syria, Staffan de Mistura, called the Eastern Ghouta blockade and others like it a "medieval" approach to war. Amnesty International said last month that the government's use of sieges against civilians — a tactic it called "surrender or starve" — was a crime against humanity.
The tactic has proven brutally effective for the government, which in the last two years has managed to recapture a constellation of towns around Damascus using the same tactics. In Zabadani and Daraya, the government executed its strategy so completely that it managed to completely depopulate the two towns, which had a combined population of about 100,000 people before the war.
The government has followed the same strategy to restore its authority over the cities of Aleppo and Homs. The government denies besieging opposition areas, saying the militants, whom it refers to as "terrorists," withhold aid.
At least three rebel factions still claim a presence in Eastern Ghouta, and send shells whistling into the capital on a daily basis. In mid-November, a powerful faction called Ahrar al-Sham captured parts of a military base in the region, prompting the government to respond with waves of air strikes and shelling that killed over 200 civilians, according to the Britain-based Syrian Observatory for Human Rights. Ahrar al-Sham said it attacked the base in response to the deteriorating humanitarian situation.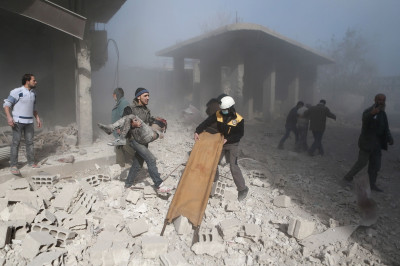 Shortages have gotten so dire that residents are eating out of the rubbish and parents are skipping meals so their children can eat, Jakob Kern, the World Food Programme's top official in Syria, told The Associated Press. "They look exhausted, they look tired, and there is this despair in their eyes," said Kern, who entered Eastern Ghouta with one of the few aid convoys the government has allowed in recent weeks.
The convoys have provided just a trickle of relief — supplies for tens of thousands of people that will last only a month or less, at a time when hundreds of thousands are in need.
Photos from Eastern Ghouta show children gaunt with hunger, their skin wrinkled and aged. Mothers are not producing milk to feed their infants, and baby formula is too scarce and expensive for most families to afford. Driven by desperation, some residents are trying to eat animal fodder.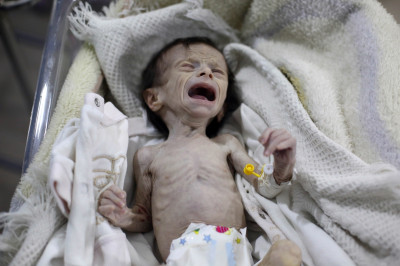 Since at least 2015, there have been Syrians dying every winter of starvation and other medical ailments made worse by the bitter cold. Families in besieged areas, as well as camps for the displaced, burn furniture, plastics, and even the door frames and roof supports of their homes to cook and stay warm, as the cost of fuel has soared far beyond reach for most.
Eastern Ghouta saw large protests in the early days of the 2011 Arab Spring uprising against Assad. Government forces surrounded the area in 2013, but for most of the last four years, they turned a blind eye to tunnels and above-ground smuggling. Activists say local commanders made huge sums of money from checkpoint bribes, and traders got rich selling to a captive market. Patches of farmland also provided some food.
The government tightened the noose this year, closing the tunnels and nearly all the crossings. Food in Eastern Ghouta at one point was up to 85 times more expensive than in Damascus, just a few minutes' drive away, according to the WFP. "We need for the siege to be lifted," said Anas al-Dimashqi, a local media activist. "Not just in front of the cameras, as the government does every now and then."