In this photo essay, Reuters photographers tell the stories behind some of the most memorable news images of 2017, from Donald Trump's inauguration crowds and the flight of Rohingya refugees, to the Westminster terror attack and the Grenfell Tower fire.
This gives the photographers a chance to tell the stories behind their pictures and explain in their own words how the images were taken. Through it all, the photographers raise a question that shows how close they were to the action: in moments of crisis, should they take pictures or try to help?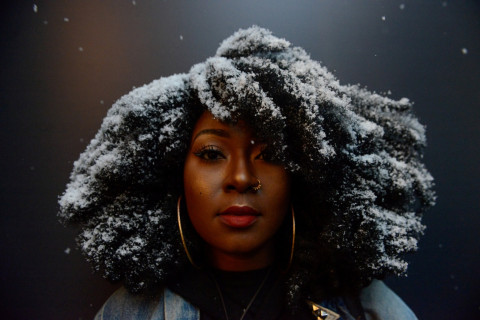 14 January 2017: Kandy Freeman takes part in a Black Lives Matter protest in front of Trump Tower in New York
Stephanie Keith: "I took this photo across the street from Trump Tower in New York City just days before Trump's inauguration. All major news outlets were staking out the Tower both for protests and for high-profile visitors. That Saturday, there wasn't much news and by 3pm most journalists had left. I stayed because there was a small Black Lives Matter march coming from Harlem.
"Just as the sun was setting, about 40 protesters arrived. The snow started falling with big heavy flakes. Almost immediately I saw this woman. I thought she was so beautiful. I noticed that there were snowflakes in her hair and they were not melting. I thought, what a perfect metaphor since the right wing has named liberals "snowflakes", saying they are weak and easily take offence.
"I loved the contrast of the black and white colours and the contrast of her strength and the fragility of the snowflakes. I asked if we could make a portrait. There was a store under construction with a black facade covering the building. I had this vision of taking a photo of people emerging from the blackness of the facade with snowflakes all around them. I lit the other side of her face with the warm incandescent glow of the upscale jewellery store next door. It was like creating a studio environment with available light, during a protest.
"There wasn't much time because the jewellery store owners were yelling at us to leave, thinking we were part of the now-boisterous Black Lives Matter protest. I literally had two minutes to set up this portrait and capture it until she rejoined the protest. I got her name afterwards and sent her the photos. She loved them too. 'After walking over six miles my Afro was a winter wonderland,' Kandy Freeman said."
---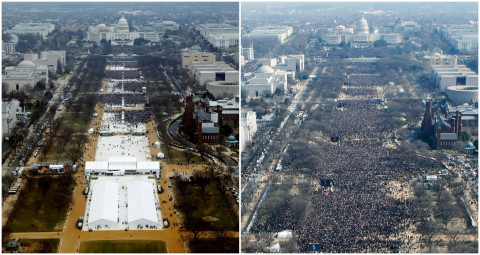 20 January 2017: Crowds gather on the National Mall in Washington DC to attend the inauguration ceremony to swear in US President Donald Trump
Lucas Jackson: "The assignment was simply to shoot the inauguration from the Washington Monument. To avoid confusion I made sure to transmit crowd pictures while Trump was onstage with the crowd at its peak. Twitter quickly erupted with claims that my images were taken early in the morning or photoshopped to remove attendees.
"At his first briefing, the President's new press secretary, Sean Spicer, said: 'Photographs of the inaugural proceedings were intentionally framed in a way, in one particular tweet, to minimise the enormous support that had gathered on the National Mall. This was also the first time that fencing and magnetometers went as far back on the Mall, preventing hundreds of thousands of people from being able to access the Mall as quickly as they had in inaugurations past.'
"This was not true. It was a new experience to have the validity of such a straightforward image questioned. After that press conference the picture was everywhere. Later, CNN released an image it took from the portico of the US Capitol as Trump was sworn in. That vantage point is several hundred feet lower than the Washington Monument so the crowd looks bigger than in my picture. A second wave of 'liar' inundated me on Twitter. I ignored the noise but posted a copy of my image on Instagram with the caption: "Perspective; it matters."
Later people noticed that the clock on the Smithsonian building in my picture shows the time at 1:15. Social media tried to claim my images were taken over an hour after the inauguration once the crowd had thinned. But the Smithsonian said its clock was broken and was stuck on that time."
---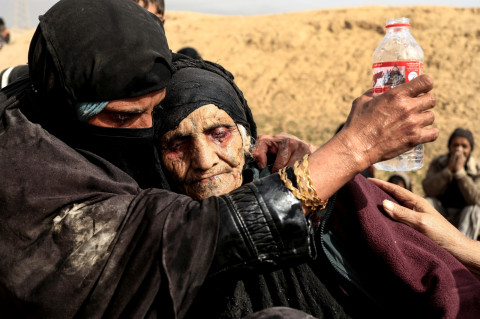 27 February 2017: Displaced women who had fled their home rest in the desert as they wait to be transported to safety during the battle for western Mosul
Zohra Bensemra: "I took this picture of 90-year-old Khatla Ali Abdallah in a desert on the outskirts of Western Mosul after she fled the battle. Her fearful eyes red with fatigue, Khatla was so exhausted she could not stand or even sit properly. She looked to me like she had not eaten or drank water for a long time.
"The moment was so emotional that I had tears in my eyes when I photographed her. I felt bad because I could not do anything for her apart from taking pictures to show the world the agony and torment of people trying to flee Mosul to safety. I was sad too, imagining this woman as my own grandmother and feeling helpless to make her comfortable. When you face such a moment, you always think that it could happen to anyone of us.
"But despite all, Khatla looked beautiful to me, almost as if every wrinkle on her face told a story. I was fortunate to find her a few days later in a refugee camp after showing people my photograph of her. She has survived decades of turbulence in northern Iraq. She told me 'the fighting there is the worst I have ever seen'. She had been carried across the desert by her grandsons, under sniper and mortar fire, one of thousands who braved the difficult and dangerous journey out of Islamic State's shrinking stronghold in western Mosul.
"Khatla made me smile when she expressed her remorse about her 20 chickens she had to leave behind. She had looked after them even while hiding from crossfire in her house's basement. Despite all the terror she experienced under IS rule, it had not destroyed her humanity - she said, 'Even animals deserve life.'"
---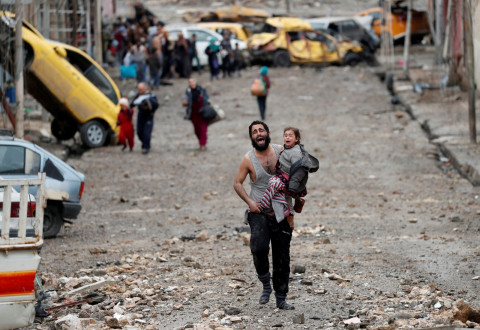 4 March 2017: A man carries his daughter from an Islamic State-controlled part of Mosul towards Iraqi special forces soldiers during a battle
Goran Tomasevic: "Both screaming in terror, a father and the young daughter he cradled in his arm fled through the rubble-strewn streets of Wadi Hajar, transformed in a flash into a battleground between Islamic State fighters and Iraqi special forces. They and their neighbours – some wearing rubber sandals, some barefoot – were running from an Isis counter-attack in this part of Mosul, dodging gunfire as the militants closed in.
"When they reached the special forces lines, males were ordered to lift their shirts to prove they weren't suicide bombers. Some had to take off their clothes or show their belts, though not those carrying children. The father was so beside himself, so panicked. It was obvious because he had a short shirt on and was carrying a child that he wasn't Islamic State."
---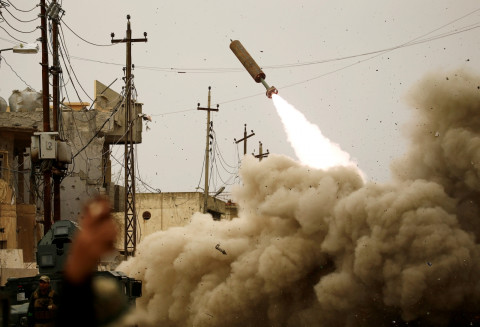 11 March 2017: Iraqi rapid response members fire a missile against Islamic State militants during a battle in Mosul
Thaier Al-Sudani: "This attack came in the middle of a battle when Iraqi forces were trying to recapture the regional government compound from Islamic State. I was taking pictures of clashes at Mosul's antiquities museum when we spotted an Islamic State drone in the air above us. We dropped to the ground for fear of being attacked by a rocket. I cut my hand and we returned to the car to treat it. When we got there, I saw Iraqi forces firing rockets nearby at an IS target beyond our field of vision, so I resumed taking photographs. I thought this photo was a strong one that expressed the terrible violence of battle. It is another world covering wars compared with news conferences. There is 100 percent danger, and the internet we need to transmit pictures is poor or non-existent."
---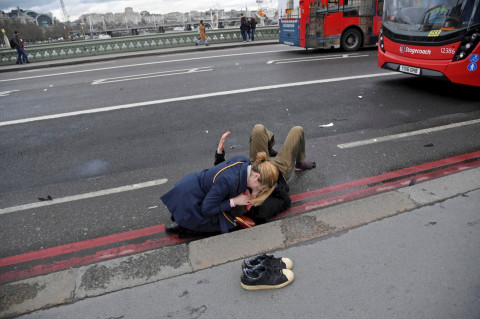 22 March 2017: A woman assists an injured person after an incident on Westminster Bridge in London
Toby Melville: "I was on the footpath below the southeast end of Westminster Bridge, shooting pictures for the on-going Brexit story. I saw in my peripheral vision a large dark shape around 3-5 metres away come over the parapet and hit the ground approximately 10 metres below. I thought it was a terrible but isolated accident. I immediately called for an ambulance and ran to the top of the steps to try to get help at St Thomas's, the nearby hospital. While on the phone, I saw a couple more people lying on the pavement amongst debris, covered in blood or unconscious.
"There were other people scattered along the bridge and pavement in various states of injury and distress. I realised this was not an accident but something premeditated. As the emergency services were on the scene now, I started taking photos along the bridge. I was unsure if danger was still present. I didn't know a car had been driven into these people. I hadn't heard any screams, loud engine noises or the gunshots of the armed police shooting and killing the perpetrator of the attack, Khalid Masood. I thought the injured or dead might also have been shot and a gunman might still be on the loose.
"Armed police arrived and cleared the bridge. I called the office and started filing photographs from the back of the camera, transmitting most of the frames I had shot for the office to choose, edit and crop. A week later I walked back over the bridge, everything was 'back to normal', in a way. But the sight of the first victim falling and the sickening thud as he hit the pavement still goes through my mind. I wonder whether I should have transmitted all the frames I shot. The sequence of pictures is hard to look at. I remind myself I was lucky. I had walked over the bridge about a minute before the attack. Others weren't so fortunate."
---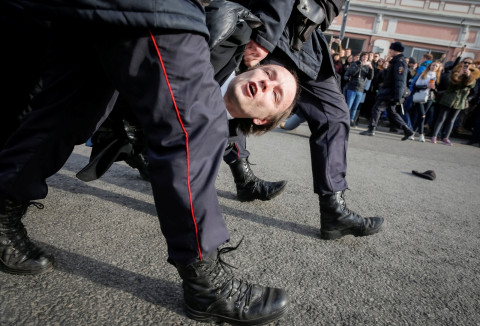 26 March 2017: Law enforcement officers detain an opposition supporter during a rally in Moscow
Maxim Shemetov: "This picture was taken during protests in central Moscow, organised by opposition leader Alexey Navalny. I was in Pushkinskaya Square, which was flooded with people, shouting slogans and waving flags. Traffic stopped and the police started detaining people. I saw police officers holding a protester by his arms and legs. He was shouting, and his head was just between their boots. I shot some frames almost from ground level while running beside them. I didn't look into my camera. I was just thinking: 'Let my picture be sharp! Let it be sharp!' The next day it was on the front page of the New York Times."
---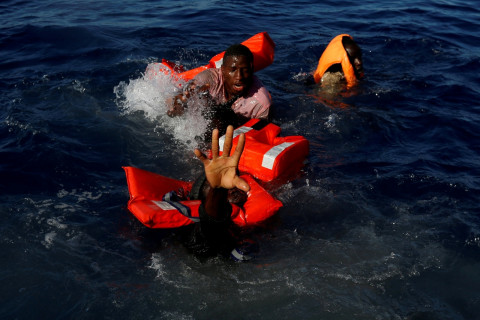 14 April 2017: Migrants try to stay afloat after falling off their rubber dinghy in the Mediterranean some 15 nautical miles off the coast of Libya
Darrin Zammit Lupi: "I spent five weeks with the Migrant Offshore Aid Station (MOAS) on their ship, Phoenix, covering search and rescue operations in the Mediterranean. At the start of the Easter weekend we were on a routine rescue around 15 nautical miles off the Libyan coast. I was on the MOAS fast rubber boat with crew members handing out life jackets to a group of 134 Sub-Saharan migrants on a flimsy dinghy before we would transfer them to the Phoenix.
"I had one camera up to my eye to shoot some wide angle frames. Suddenly, one migrant balancing on the rim of a dinghy slipped sideways and like dominos several of his colleagues lost their balance and fell into the sea. I captured the whole sequence by keeping my finger on the shutter button. It was chaos. I kept shooting as the rescuers leapt into action, helping several of the migrants pull themselves onto our boat. I was grabbing hold of people with one hand and shooting with the other. Then, through my viewfinder, a few metres away, I noticed one man struggling more than the others, stretching out his arm towards us. I screamed to alert our specialist rescue swimmer that one man was going under. He reacted instantly, jumped in, and pulled the man to safety.
"Afterwards, I did a lot of soul searching. Should I have put down my cameras altogether and just grabbed hold of whoever I could? That evening I discussed it with the rescuers, who felt I'd done the right thing. Their job was to rescue lives. Mine was to document the harsh reality of what's happening. Everyone survived that day."
---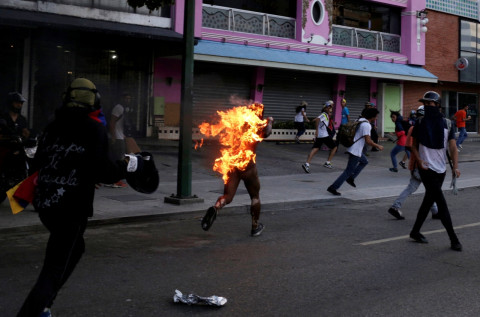 20 May 2017: A man who was set on fire by people who accused him of stealing runs down a street in Caracas
Marco Bello: "I spotted a man running in front of me, while a group of protesters, most of them hooded and with makeshift shields, were chasing him, so I followed them. Some 100 metres down the street, the protesters caught the man and surrounded him. When I walked up and went through the circle of people to take pictures, someone had already poured petrol over the man and set him on fire.
"The government said that the man was set on fire for being "chavista" (a follower of Venezuela's late President Hugo Chavez), but all I heard throughout was that he was being accused of trying to steal from a woman. I didn't hear anyone accusing him of being a pro-government infiltrator. The mob was crazy, you cannot reason with them, they do not think. Later, when things calmed down, I thought, 'This is mad'. I was just taking pictures and thinking about the technical aspect of my shooting. It's how I deal with shocking situations that are happening in front of me. Orlando Figuera, 22, passed away two weeks later."
---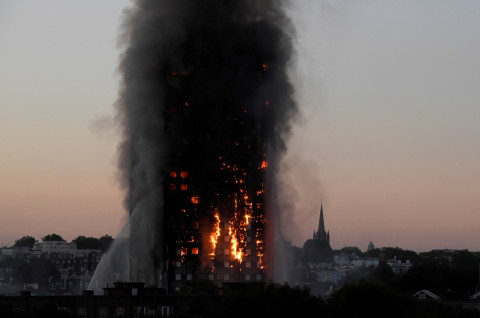 14 June 2017: Flames and smoke billow as firefighters deal with a fire in the Grenfell Tower apartment block in West London
Toby Melville: "The phone rang at around 3.30 in the morning. 'What's happened,' I said, on autopilot as I emerged from deep sleep. My picture editor, Dylan, only calls at that time of night for breaking news. 'It's not terror,' said Dylan. I felt a sense of relief. He said a tower block in West London was on fire. I dressed, picked up my cameras, laptops and phones and jumped into the car. It was still dark at 4 a.m. when I got to the scene. I could see a tower block ablaze. I was shocked. There must be scores of people trapped inside and the fire had started at 1 a.m., the worst possible time with so many residents at home and asleep.
"I felt the clock ticking as I searched for a parking spot close enough to get there on foot. Dylan edited my first frames shot, via transmission directly from camera, from his home. They weren't the best images but it was key to move them on the news wire as I was first on the scene for Reuters. As I got closer, I thought about accessing the neighbouring tower blocks that were yet to be cordoned off. I couldn't help thinking that if the structure had been ablaze for some three hours the building would collapse in smoke and rubble. It would be unwise to get too close.
"So I walked onto the Westway, a raised highway that runs a couple of hundred metres from Grenfell tower. It was closed to traffic and eerily quiet bar the crackling of little explosions coming from the building and the muted noise of sirens. Ash was falling around me onto the road. This picture has a church in the background. I shot wide frames of the building on what would otherwise have been a beautiful summer dawn."
---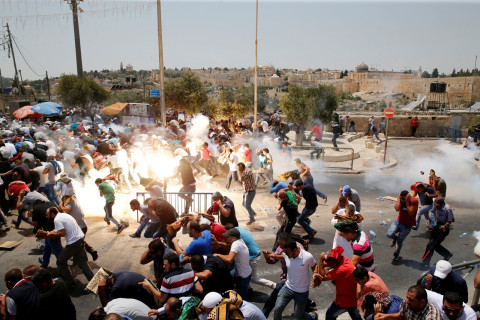 21 July 2017: Palestinians react after tear gas was shot by Israeli forces on a street outside Jerusalem's Old City after Friday prayers
Ammar Awad: "One Friday, Muslim elders called for a Palestinian "Day of Rage" to protest against Israeli security measures at Jerusalem's holiest site. I'm a native of Jerusalem and have covered the city for Reuters for 17 years, so I knew that Ras al-Amud, directly across the valley from the walled Old City, would be my best vantage point because the al-Aqsa Mosque and the golden Dome of the Rock dominate the landscape.
"I arrived at the scene and the first thing I heard was an Israeli officer giving orders to his forces to disperse the crowd the moment Friday prayers ended. Seconds later, sound bombs erupted and many of the Muslim worshippers who had been praying started to run. Others were just finishing their prayers as the scene turned to chaos. It's hard to describe the sound bombs. They are so loud it is as though the whole area must have been destroyed.
"I took 20 frames as an Israeli tear gas canister was unleashed on the crowd. The light from the exploding projectile lit up the scene, highlighting the colours in an unnatural way. Scores of men cowered instinctively from the deafening boom. I delivered the photo directly from my camera to the desk knowing that it told the unfolding story. I had a feeling that it would be the photo of the day."
---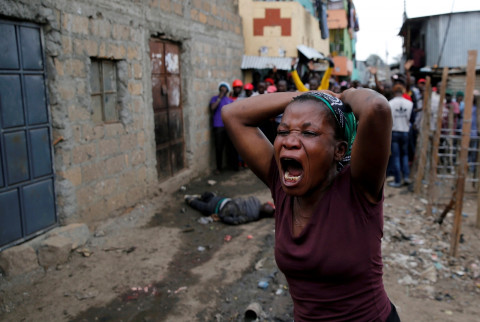 9 August 2017: A woman mourns the death of a protester in the Mathare slum of Nairobi, after the result of Kenya's election was plunged into doubt
Thomas Mukoya: "After the 8 August Kenyan presidential election, opposition leader Raila Odinga called a late night news conference at which he claimed the tallying of results was flawed. This picture was taken the next morning in his volatile Mathare slums stronghold, one of the most dangerous places in Kenya.
"After hours of running battles between riot police and opposition supporters infiltrated by gangs of muggers, the riot police changed tack. At about 3.30 p.m. a group of youthful protesters attempted to re-erect a barricade that had just been cleared on Juja Road near the air force headquarters. Riot police charged to repulse them, a few shots were fired and the police left the scene immediately. Two protesters were shot. Because of the muggers, it was dangerous as a photographer to access the alley, where there were casualties, children screaming, and women mourning. One of those killed – by a shot to the head – was Bernard Okoth Odoyo, 25, whose auntie mourned uncontrollably near his lifeless body.
"I spent about 10 minutes taking pictures and withdrew when the crowd started becoming hostile. I chose to tell the story of the killing by focusing on the wailing auntie of the deceased. Further clashes in the Mathare slums saw protesters detained, roads blocked and several houses destroyed. Taking these pictures was a rare opportunity to show post-election violence starting even before the President-elect was named. Covering conflict, you have to stay alert and understand the environment you are operating in because things happen very fast and you have to act quickly and calmly. Safety comes first. In this case, the mourning auntie was a moment to tell the story."
---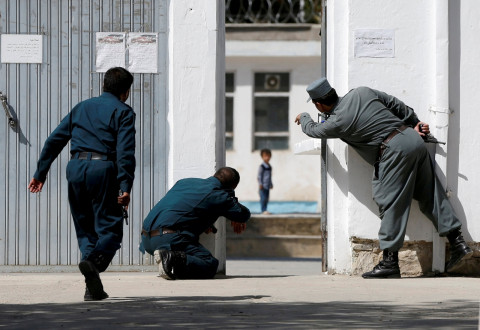 25 August 2017: Afghan policemen try to rescue four-year-old Ali Ahmad after a suicide attack in Kabul and a clash between Afghan forces and insurgents
Omar Sobhani: "It was a Friday afternoon when I got a message about an attack by Islamic State fighters on a Shia mosque that had killed and wounded a great many people. I drove to the site where dozens of security forces had already arrived. When I saw three armed policemen at the main entrance shouting at someone, I rushed to a safe place and saw Ali Ahmad, the boy in the picture. He had been playing while his grandfather was praying inside when the attack happened and he seemed completely confused by the sound of gunshots and police shouting.
"I had time to get a few photos before security forces told me to leave the area but I was sure it was a top shot and I uploaded it quickly. It didn't take long before the picture began to be shared widely on social media. I think people reacted to the picture of a little child who didn't know what was happening with all this brutality going on around him. Ali's grandfather was killed inside the mosque but I learned later that the boy was rescued by security forces.
Sayed Bashir, Ali's father, was nearby but not in the mosque when the initial blast was heard and immediately ran to check on his family. 'Right after the explosion I thought everything was finished,' he said. 'I called my father's mobile phone number and my son answered and said: "They killed grandpa". He wanted me to bring the car and get him. We were running everywhere in search of my son but the police were stopping us and didn't let us get too close.' After the burial ceremony of his grandfather we went to Ali's house but he wasn't able to talk. It seemed like the boy did not remember anything."
---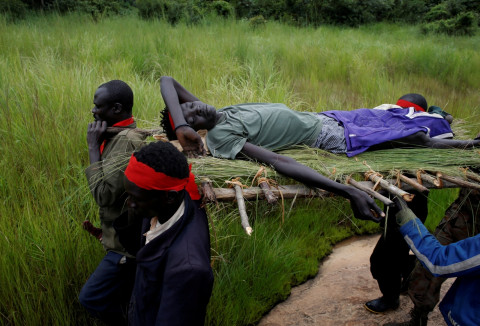 26 August 2017: SPLA-IO rebels carry an injured rebel after an assault on government SPLA soldiers, on the road between Kaya and Yondu, South Sudan
Goran Tomasevic: "This picture shows how the rebels lacked supplies to treat their wounded. They didn't even have a stretcher or bandages. This wounded rebel was in severe pain and I had to give him painkillers from my own supply. When rebels attacked the town of Kaya they distributed the few items they had to their men: a ragged strip of red cloth to serve as identification, a packet of biscuits and two ammunition clips per fighter. They ran out of bullets in 40 minutes and government forces counter-attacked, killing several people including American journalist Christopher Allen.
"Working in South Sudan requires commitment. On that trip, my colleague Siegfried and I crossed several rivers on foot. We worried about falling and getting our equipment wet. To minimise the risk, I distributed two cameras to two rebels and carried the third myself. It was unlikely all three of us would fall into the water. On our way back to the Ugandan border we traveled by motorbike. It rained heavily and the small streams became rivers. The drivers carried the motorbikes on their heads, balancing on underwater 'bridges' that were actually fallen trees. We carried our gear at head height to prevent them getting wet. Water came up to our chests. I also worried about crocodiles but thankfully I didn't see any. One night, we walked in single file through elephant grass in complete darkness. The grass rose above our heads. When we lay down on the ground to rest, it was so cold I started shaking. On the way back, we ran out of water and I couldn't find my chlorine tablets. We had to drink from swamps, streams and boreholes. Thankfully, nobody got too sick."
---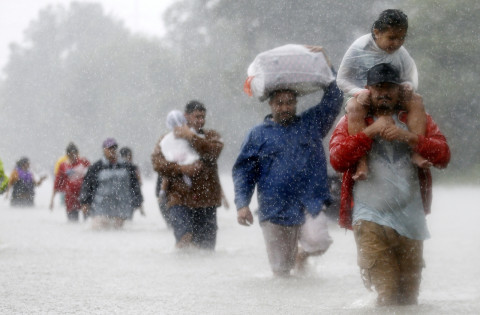 28 August 2017: Residents wade through flood waters from Tropical Storm Harvey in Beaumont Place, Houston, Texas
Jonathan Bachman: "It was my first day covering Hurricane Harvey. I only made it 500 yards into Houston when I came across a staging area where ordinary people were conducting water rescues in the Beaumont Place neighbourhood. In addition to the rescues, residents were able to walk against the current down a long road which is seen in the image. At first I went out on a boat with a couple from Louisiana to help and document several rescues.
"When we got back, I looked down the road and saw an almost perfect line of residents making the long walk to the staging area. I intentionally moved to a position so I could photograph them in a way that would convey the magnitude of this storm. I wanted to communicate that it was a never-ending line of residents struggling to get to safety and it would go on for days. Harvey was a very difficult and emotionally taxing assignment.
"My first instinct was to put down the camera and help. It is always hard to come to the realisation that I am most helpful when I am taking pictures. As an observer of suffering you have to believe that your images can make a difference."
---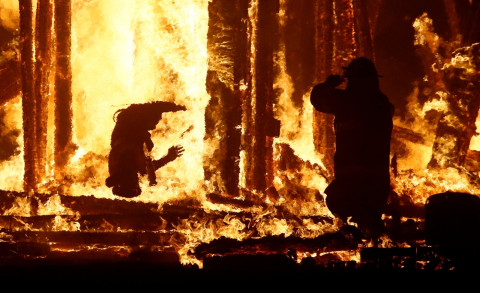 2 September 2017: A man evades a chasing firefighter and falls into the flames of "The Man" as it is burned at the annual Burning Man arts and music festival
Jim Bourg: "It was 10:30 at night in the Black Rock Desert and tens of thousands of people were gathered in a huge circle to watch the effigy of "The Man" burn at the culmination of Burning Man 2017. I was located approximately 200 feet from the effigy, and the heat from the flames was very intense.
"Suddenly, off to my right I heard screams and yells and saw Burning Man security and firefighters chasing a man running through the darkness towards the flames. I had just a moment to decide whether to expose for the likely tackle as they brought him down in the dark or spin my camera to the flames in case he actually made it to the fire. Knowing that the image and event would be far more significant if the runner made it to the flames I exposed for and focused on them as 41-year-old Aaron Joel Mitchell ran into the inferno with a firefighter trying to stop him.
"Mitchell ran back and forth through the burning embers and then appeared to either trip or dive into the flames. The lens gave me a horrific close up view as the man struggled and reacted to the flames consuming him. Multiple firefighters ran into the flames and braved the threat of the falling structure to finally succeed in carrying him out. Mitchell was airlifted to a hospital in Northern California but died later that night. It was a horrible and troubling end to what is always an amazing week and coverage."
---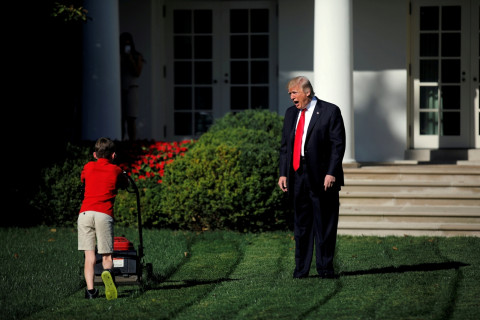 15 September 2017: US President Donald Trump welcomes 11-year-old Frank Giaccio as he cuts the Rose Garden grass at the White House
Carlos Barria: "Working in Washington, covering politics, I struggle with the rigid and tightly controlled images we're asked to take. But once in a while I get to witness a natural, unscripted moment. One morning, we were told the White House Pool would gather by the door of the Rose Garden for a photo opportunity. It was unscheduled so I didn't know what to expect.
"As it happened, the President was planning to surprise 11-year-old Frank Giaccio, who had written a letter to Trump offering to mow the White House lawn. Giaccio had been invited to work for a day at the White House alongside National Park Service staff. As we waited for Trump, I saw that Giaccio was very focused on this job and not paying much attention to the group of journalists, photographers and cameramen milling around the garden.
"Suddenly, from the other side of a hedge, wearing his signature, long red tie, President Trump appeared, dropping in as if this were an episode of The Apprentice. He walked towards Giaccio to say hi and pose for a picture. He began shouting to the boy above the noise of the lawnmower, but it was too loud. Giaccio was so focused on his job that he didn't notice Trump. He walked right past, pushing the machine. Trump paused for a second and walked to the end of the lawn to talk to Giaccio, but again, the boy didn't stop mowing. He kept going until his father rushed onto the scene to grab his attention, and he finally stopped to greet Trump.
"The image of Trump shouting at a kid who is mowing his lawn might have many interpretations in today's politically polarised United States. But for me it was just a kid who loved what he was doing, to the point he almost appeared to ignore the President."
---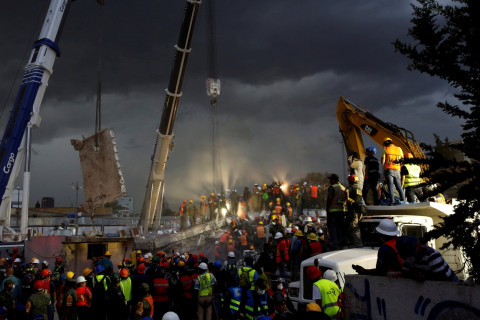 20 September 2017: Rescue workers and Mexican soldiers search a collapsed building after an earthquake in Mexico City
Carlos Jasso: "I took this photo of rescue workers, soldiers, volunteers and residents trying to retrieve a corpse from the rubble the day after the earthquake in Mexico City. The atmosphere was extremely emotional as everyone was shocked by their own experiences of the earthquake but desperate to help find people. Everyone was focused on the rescue – removing rubble, moving tractors, making silent gestures in case they could hear voices, bringing food and handing out water. Within the chaos there seemed to be organisation.
"I got to the front of the rescue scene by accident, I started walking into the chaos and seemed to pass all security, police and army. The feeling I had when I was taking this photo was hope that they would find someone in the rubble alive. My responsibility as a photographer is to portray what is happening and I feel this image portrays the effort, hope, sadness and pain within a community after a natural disaster.
"When the earthquake happened I was on one of the main streets of downtown Mexico City. I was totally shocked when the ground shook so violently. On the one hand I wanted to continue taking photos and on the other I desperately wanted to get through to my wife on the phone and see my daughter. So I tried to do both – take photos while making my way to my daughter's school. It was mayhem; buildings had collapsed, cars were abandoned on the street, people were wandering injured and shocked, there were screams about gas leaks... children from the nursery were lined up in cots on the street. Finally I was united with my daughter and wife and then I was able to carry on working."
---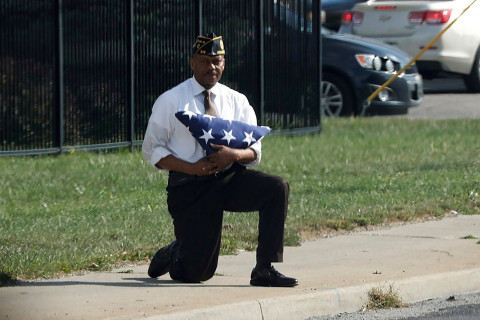 27 September 2017: A man kneels with a folded US flag as President Donald Trump's motorcade passes him in Indianapolis
Jonathan Ernst: "Shooting through the window of a van in the US president's motorcade is never an ideal way to make pictures – but sometimes it's the only way. Even then, if you spot something, it might be distorted by the glass in the front windshield, or a little bit fuzzy from the speed.
"In September, soon after President Donald Trump had made comments condemning NFL players who kneel during the national anthem, he made a day trip to a rally in Indianapolis. As we drove there from the airport, I wondered if I might see someone kneeling along the way. As the motorcade sped along there were sporadic groups of people, many with supportive signs or American flags. All of a sudden on my side of the van I saw a man on one knee with a tri-folded flag about to whoosh by. I was able to shoot a few frames without even time to bring the camera all the way to my eye. Did I get it? No. Out of focus. Unusable.
"But I was pretty sure neither of my competitors that day had spotted him at all. It's not often that you get a second chance to make a picture, but on our way back to the airport I was ready just in case he was there again. Sure enough, as I kept watch on the left-side sidewalk, there he was. I fired a burst of pictures and filed a pair of them. In one of the earlier photographs I had caught a portion of the sign on the building he was kneeling in front of. Using that information, a reporter was able to track the man down and tell his story in full. US Army veteran Marvin Boatright wanted to send a message against social injustice, and he did. I was happy he gave the motorcade a second look on the way out of town – so that I could be a messenger."
---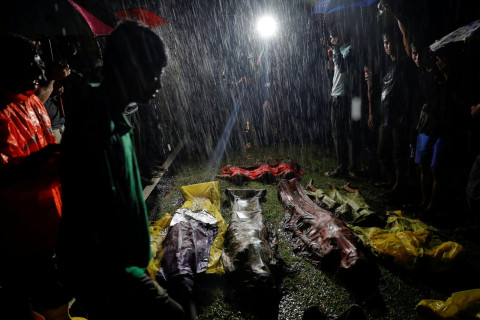 28 September 2017: People gather around the bodies of Rohingya refugees who drowned when their boat, filled with people fleeing Myanmar, capsized
Damir Sagolj: "It was a day of heavy rain and big waves. I was in southern Bangladesh to cover Rohingya Muslims landing in rickety boats after a dangerous sea journey from Myanmar. As I drove along Marine Drive, a beach road between the towns of Cox's Bazar and Teknaf, I thought no boatman would risk sailing in such conditions. What I didn't know was that a single doomed boat had been lost at sea overnight and was slowly making its way to shore.
"Just after sunset, I learned the boat carrying 80 Rohingya had capsized at Inani beach near my hotel. There were many casualties. I made it to the beach in ten minutes. The relentless rain and chaotic scenes made it difficult to find out what happened. I counted 15 bodies lying on the road near the beach. They were partially covered by plastic sheets and soggy pieces of cloth. Lalu Miya, a Rohingya survivor who I would later meet for several days to reconstruct their deadly journey, was identifying the bodies of his wife and four-year-old son.
"That same night more bodies were collected from the beach. In the morning, survivors and local residents gathered for a funeral. The 23 dead were buried in two mass graves in rice fields behind one of the most beautiful beaches in Bangladesh. Most of them were children."
---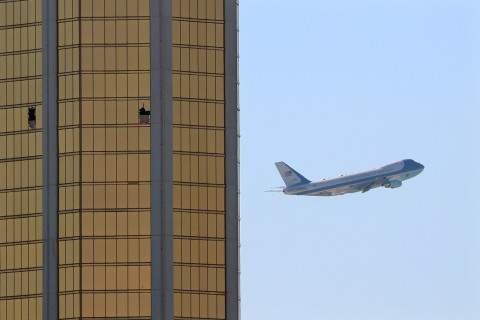 4 October 2017: Air Force One is pictured leaving Las Vegas past broken windows on the Mandalay Bay hotel, used by mass shooter Stephen Paddock
Mike Blake: "This all started with a phone call in the middle of the night. A mass shooting in Las Vegas. I packed my gear and left my house in southern California in the dark. Arriving with other colleagues at first light, I began covering what was to become the worst mass shooting in modern US history.
"The picture of the president's plane leaving Las Vegas was planned and thought out. I had watched 737 aircraft take off from my hotel window and thought that because Air Force One is a much larger and heavier plane than most others, it might fly just above the hotel where the shooter had smashed out hotel windows to commit his crime. We had a rough schedule of the president's timeline, as we have a photographer travelling on his plane. But after patiently waiting for it to come into my viewfinder I put my camera down and texted our travelling photographer. They were obviously running late and he texted back they were just arriving back at the airport.
"When the plane came into my viewfinder I was shocked by how low it was. I expected it to be just above the hotel but it was really low and passed behind the hotel. I quickly refocused and reframed and waited for the plane to reappear on the side where the broken windows were. I shot about 15 frames and did a quick edit and filed to our global picture desk in Singapore. The whole thing took about five minutes. When the president's plane landed hours later in Washington, I received a text from our travelling photographer Kevin Lamarque saying a White House press person loved the image and had come to show him the picture on the flight home."
---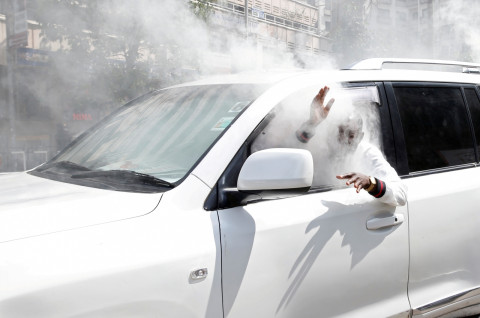 13 October 2017: Caleb Amisi Luyai, an opposition politician, reacts after a tear gas canister fired by policemen hit his car during a protest in Nairobi
Baz Ratner: "I was lucky to get this picture. I was covering an opposition protest with Thomas Mukoya, the chief photographer for East Africa. I was riding a motorbike ahead of a convoy going to Nairobi's main street in defiance of a government ban on rallies in city centres. Suddenly, I heard the crack of tear gas being fired by riot police. The police were stationed at almost every intersection to block the protesters.
"I pulled over to put on my gas mask and saw that one of the canisters had landed inside a nearby car. A man was leaning out the window choking on fumes and frantically trying to get out. The gas was so thick he couldn't see anything. As I ran to help open the door I managed to take a few photos. I didn't recognise the man but Thomas Mukoya later identified him as an opposition MP Caleb Amisi Luyai.
Opposition protests were almost a daily occurrence during Kenya's long election season and police often disperse them with tear gas or live rounds. Sometimes civilians were caught. Two days before I took the photos of the MP I saw a tear gas canister land in a crowded bus. A woman was so desperate to escape she climbed out of the vehicle's back window."
---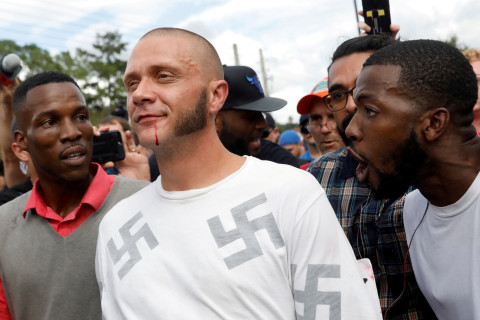 19 October 2017: Protesters confront a man with a bloody lip outside the location where Richard Spencer was delivering a speech
Shannon Stapleton: "The evening before Richard Spencer, an avowed white nationalist and spokesperson for the so-called alt-right movement, was to speak at the University of Florida, I walked around the Gainesville campus. All seemed calm; there were no protests. The area was blanketed by police because Florida's governor had declared a state of emergency to try to prevent violence. Early the next day there was a light presence from both sides.
"Over time, several hundred people protesting Spencer gathered in a 'free speech zone' near where he was speaking. Once his speech began, tensions ran high and a few skirmishes broke out, but overall it was peaceful. I sat to file my photos and suddenly people started running. I grabbed my cameras and followed them. In the midst of an angry crowd stood a man in a shirt printed with swastikas. The atmosphere was vitriolic. He had been punched in the face and was smirking as blood trickled down his chin.
He had walked right into the free speech zone and this really physical crowd. I got in there and took my photo as police were trying to escort him out of the zone. People called him pejorative names; some spat at him. It was almost surreal. A black man stepped beside him and guided him out of the crowd and over the barricade, alternately speaking to him and shouting at him. I moved with them and watched as the man went off, seeming to disappear."
---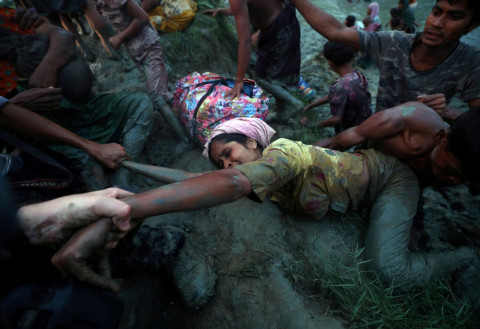 1 November 2017: Photographers help a Rohingya woman out of the Nad River after crossing the Myanmar-Bangladesh border
Hannah McKay: "We were standing, looking out over paddy fields and grasslands, with lots of water and one thin path leading to the border with Myanmar. In the distance we could see a huge group of people. But they weren't moving. It was 4 o'clock in the afternoon with only two hours of daylight left. So we decided to move towards them. It took us about an hour along the muddy path, meeting border guards and persuading them to let us pass. Then we saw thousands of refugees just sitting there, with more Bangladeshi border guards telling us to go back. We could see something was going on behind the crowd. So we waited for an opportunity to move closer, and that's when we saw them.
"The crowd was sitting on a riverbank and behind them, about three metres below, in the river itself, there were just hundreds of refugees coming across every minute. It was non-stop. There was no end to the people. People carrying babies. Elderly people being escorted through the water and mud, more than knee-deep. And we were just photographing everyone coming towards us. Then this woman appeared. She got to the point where she needed to get up to the footpath where we were. But she was exhausted. Two refugee men on her level were trying to push her up, which was when we reached out to help.
"Reuters photographer, Adnan Abidi, took a hand. Another photographer took another and I got her leg when she got within range. It was a case of dragging her. She lay there for a few minutes. I have no idea what happened to her. You are there trying to do your job with a camera in your hand. And then your heart overrules your head."