A new list of more than 25,000 Twitter accounts associated with Islamic State (Isis) has been released today (31 March 2015) as part of the latest online campaign against the terrorist organisation. It follows the release earlier this month of a list of 9,200 Isis Twitter accounts, highlighting the ever-growing problem of the social media platform being used to spread extremist propaganda and recruit members.
As part of the latest release, IBTimes UK has been given exclusive access to the database and the tools used to mine Isis data, described by its creators as a "social media war machine".
Although the release is aligned with campaigns carried out by the hacktivist collective Anonymous, such as #OpIsis and #OpIceIsis, the creator of the database and those involved in the list's release claim to not be part of the amorphous group.
Autonomous database
At the time the database was shown to IBtimes UK on 30 March, the database was tracking 26,374 accounts, 10,408 of which were still active.
The full database that was shared showed that more than 30 of the accounts had over 100,000 followers, while around 2,200 accounts had more than 1,000 followers.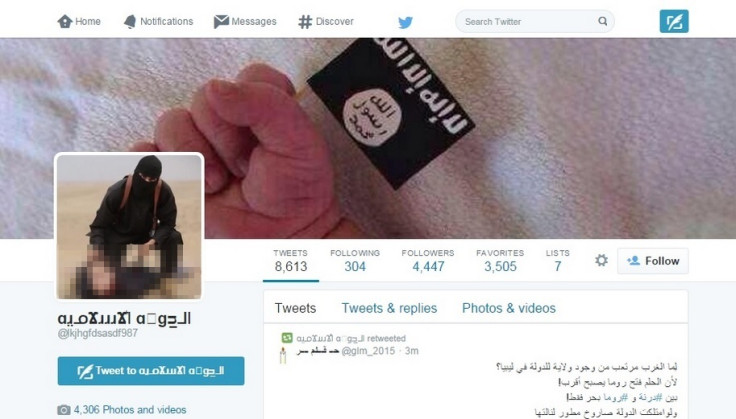 Due to the size of the database it has not been possible to verify the exact number of accounts that are posting content of an extremist nature. However, its developer pegs its accuracy at 80% to 90%.
Our own analysis of a sample of the accounts listed puts this figure higher than 90%.
The creator of the database, a US-based programmer who wishes to remain anonymous, worked with cyber counter-terrorism activist XRSone to make the latest list public and raise awareness of Twitter's use as an Isis recruitment platform.
Twitter as a hydra-like platform for Isis to thrive
XRSone was responsible for the release of the list of 9,200 Isis-related Twitter accounts earlier this month. He has previously described Twitter as a hydra-like platform on which Isis can thrive, allowing new accounts to constantly be created and gain followers no matter if old ones are deleted.
XRSone spoke with IBTimes UK to explain how the database is able to track both active and suspended accounts, while constantly updating with new accounts suspected to be linked to Isis and its supporters.
By inputting account names known to be associated with Isis, the database is able to autonomously scrape through new Twitter account names that are similar to the ones already suspended or deleted.
This picks up on the tactic used by Isis of creating new accounts just one letter or digit different from previous accounts.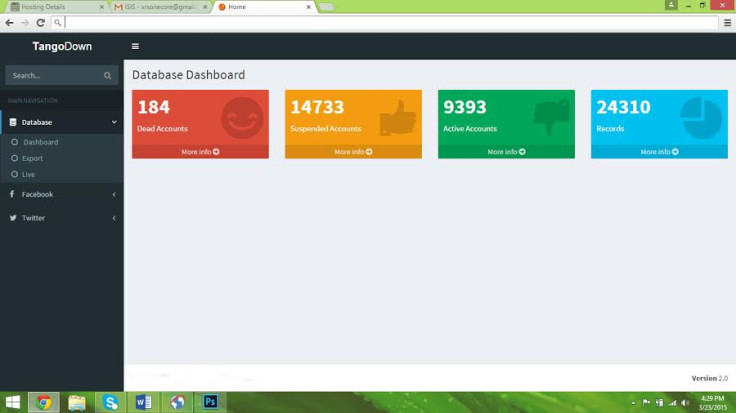 It is also able to pick up on interconnected accounts, used to promote newly created accounts so that they rapidly gain followers and never lose momentum.
"The database is completely autonomous," XRSone said. "Now that it's up and running it doesn't require any human intervention. It's built off Twitter's own API (application programme interface) for developers, so literally anyone could have done this.
"If this guy can create this by himself, what could Twitter do? They need to develop their own database using their own analytics software and data mining tools. And then maybe purge them all."
Twitter as a tool to gather intelligence?
Although currently tracking around 25,000 Isis-related accounts, XRSone predicts that the figure is probably closer to three-times that. A recent report by the US-based Brookings Institute claimed that as many as 90,000 Twitter accounts worldwide could be in the hands of Isis militants and their supporters.
"While we do not believe that any mainstream social media platform wishes to see its services used to further acts of horrific violence, we also suspect some would rather not be bothered with the challenge of crafting a broad and coherent response to the issue," the report stated.
"Social media companies and the US government must work together to devise appropriate responses to extremism on social media."
IBTimes UK has contacted Twitter with a request for comment but is yet to receive a response. The firm has previously refused to comment on Isis' use of its platform as a propaganda tool.
XRSone and other online campaigns against Isis, such as #OpIsis and #OpIceIsis, have been criticised by intelligence agencies for shutting down a key source of intelligence gathering.
Such arguments are dismissed by XRSone, who claims that the vast majority of accounts are used to spread propaganda with the hope of recruiting more people to its cause, not to communicate valuable military strategic information.
"If the government need to rely on Twitter feeds to gather intelligence," XRSone said, "then we're f***ed."