Thousands of Twitter accounts associated with terrorist group Islamic State (Isis) are still active and spreading jihadist propaganda despite a campaign by the hactivist collective Anonymous to take them down.
A list of more than 900 Twitter accounts suspected to belong to Islamic militants has been released by Anonymous, however the nature of the social media site means that extremists are able to continue communicating through the site on a massive scale.
Some active Twitter accounts associated with Islamic State have more than 20,000 followers and continue to post militant propaganda despite being reported to the social network.
A source within Anonymous has shared Twitter lists with IBTimes UK that are used by jihadists to communicate and share photos, videos and information. One list has more than 1,500 members and includes troves of propagandist images and videos.
"Everyone is focused on Twitter because unlike Facebook and YouTube, these accounts stay open for prolonged periods of time," the source said.
The hydra-like operation means that Islamic extremists are able to easily and continuously create new Twitter accounts and rapidly gain followers to spread their message before being taken down.
"From what I can see Isis uses a system that constantly condenses but never loses momentum," the source within Anonymous said.
"They will use two Twitter accounts to promote a third by adding content like videos and pictures to the third and spreading them with the first two accounts.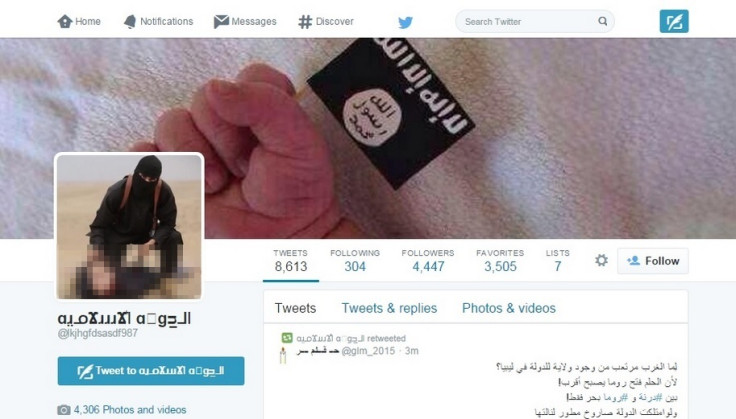 "Usually accounts one and two fall quickly but now they have a third account that has many more followers and before it gets removed they repeat the process. They inter-connect the accounts so well that no matter how many are removed there is always a link to the next one."
Twitter has refused to comment on the matter, neither confirming nor denying to IBTimes UK that it is aware of the latest list of extremist accounts.
Anonymous wages cyberwar with terrorists
A campaign to take down social media accounts and websites associated with Islamic militants has been set up by Anonymous under the banner 'Op Charlie Hebdo' (#OpCharlieHebdo).
Set up in the wake of the attacks on the satirical magazine Charlie Hebdo in Paris last week, the operation aims to combat what it sees as the growing threat posed by extremists.
The amorphous group is encouraging people to report suspected terrorists to Facebook and Twitter, while carrying out its own DDoS (Distributed Denial of Service) attacks on the websites.
"We cannot fall to the ground. It is our duty to react," Anonymous said in a statement announcing the campaign. "We Anonymous around the world, have decided to declare war on you the terrorists.
"Anonymous has always fought for the freedom of speech, and will never let this right be smirched by obscuratism and mysticism. Expect a massive reaction from us, because this freedom is what we've been always fighting for."