Technology often takes inspiration from nature, and now researchers have created an amphibious drone called the Flying Fish that can fly in the air and swim in the water, just like its creature counterpart.
Developed over two years by a team at John Hopkins University in the US, the winged unmanned vehicle acts just like the fish by building up speed underwater then thrusting itself out of the water, where it goes one step further by then operating like a traditional aircraft.
The triangular-shaped UAAV (Unmanned Aerial-Aquatic Vehicle) can autonomously operate underwater and transition from water to air powered by a single motor and propeller, where it can fly at speeds of up to 30mph.
Joe Moore, Eddie Tunstel and Robert Osiander – robotics researchers in the Research and Exploratory Development Department of the Johns Hopkins Applied Physics Laboratory – devised the idea of the Flying Fish drone as a way to collect data.
"The concept is for the UAAV to fly itself to a land-locked body of water and then go underwater to collect data. The Flying Fish can also rapidly sample multiple locations in a large body of water. Instead of travelling underwater, it flies between points, providing a much faster means of collecting information." it claimed on a press release.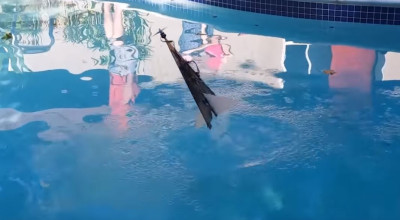 While the concept vehicle is still at its prototype stage there are plans to later equip the drone with sensors and an on-board camera.
Other nature-inspired drones created by researchers in the past have included jellyfish, snakes and even a 'bat bot' from the California Institute of Technology (Caltech) that has a skeleton and silicone-based wing membranes to help it fly just like the real winged creature.