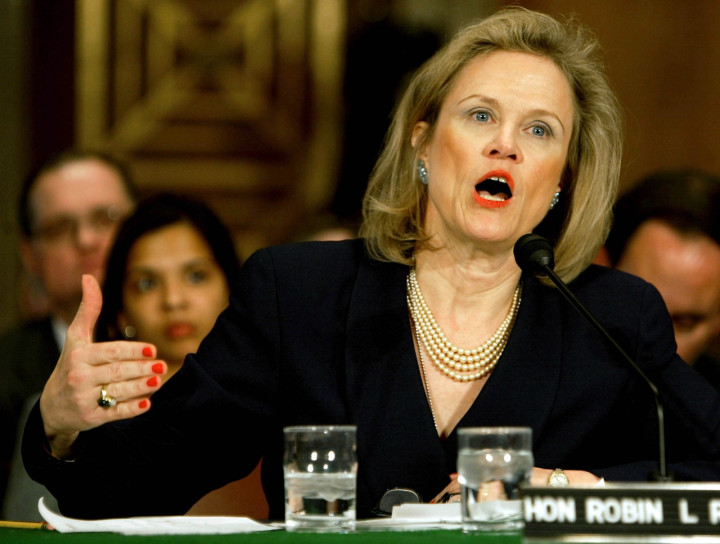 A prominent former US diplomat is being investigated for leaking secret information to Pakistan.
The FBI allegedly uncovered the leak after intercepting a conversation in which a Pakistani official suggested that his government was receiving classified information from a US official, reports the New York Times citing an unnamed source.
The bureau placed former diplomat Robin L Raphel under surveillance and, after raiding her home, found classified information.
She has not been charged with any offences.
Raphel, 67, considered one of the leading US experts on Pakistan, has been stripped of her security clearance and is no longer allowed access to the State Department building.
One of the highest-ranking diplomats of her generation, she served as ambassador to Tunisia and was assistant secretary of state for South Asian affairs under Bill Clinton.
After retiring from the government in 2005, she lobbied for the Pakistani government and then worked as a State Department adviser, overseeing the distribution of US aid in the country.
Her former husband, US ambassador Arnold Raphel was killed in a mysterious plane crash that also killed Muhammad Zia al-Huq, the Pakistani president, in 1988.
In India, she is widely derided, with many accusing her of being overly partisan.
The Times of India recently described her as a "brazenly pro-Pakistan partisan in Washington" with a "pathological dislike for India which she did little to conceal".
In 1996 she met senior Taliban commanders and argued for the construction of an oil pipeline through Taliban country, earning her the sobriquet Lady Taliban in the Indian press.
After placing her under surveillance, FBI agents suspected that she was taking home classified information.
Andrew Rice, a spokesman for Raphel, told the paper: "Nothing has changed for Ambassador Raphel. She has not been told she is the target of an investigation and she has not been questioned."
Once a staunch ally of the US against the Soviet Union, Pakistan is now regarded with suspicion by some US officials and is believed to be sponsoring the Taliban.
In Pakistan there is widespread hostility towards the US and towards what is regarded as the indiscriminate use of drone strikes in the country.