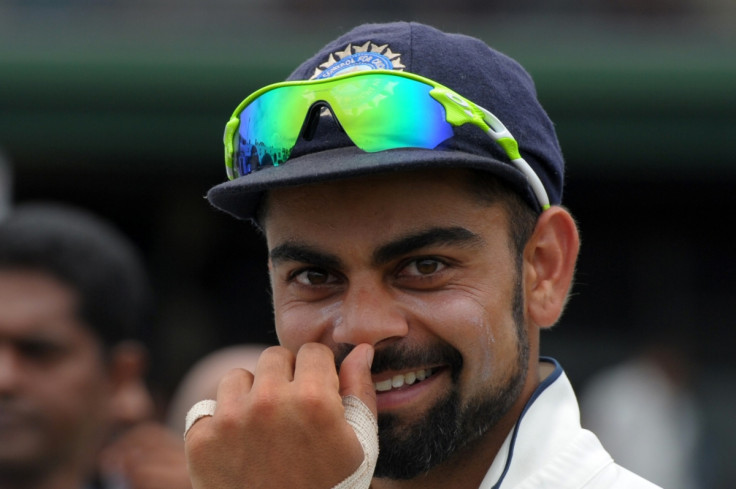 Indian cricket player Virat Kohli has used International Women's Day to apologise to women on behalf of the "jerks", "cat-callers", "stalkers" and the "glass ceiling makers". Kohli posted the message on his Twitter and Instagram pages on 8 March as people all over the world celebrated the day dedicated to female emancipation.
Kohli's message was accompanied by an image of himself with the word "sorry" printed across it. The cricket legend is wearing a sombre look with his hands folded in prayer, as if pleading for forgiveness from women.
Kohli's message read: "To all the women and the young girls out there, sorry for the jerks, the whistlers, the cat callers, the blank callers, the won't stop starers, the "frandship" stalkers, the "accidental" brushers, the glass ceiling makers. Please don't let them ruin it for the rest of us. Happy Women's Day."
Within three hours of posting the image on Instagram, nearly 50,000 people had liked it and thousands had retweeted the same on Twitter. Many women also responded to Kohli's message, thanking him for his words saying that it had made them smile.
Kohli was not the only Indian celebrity to acknowledge International Women's Day on social media. Bollywood actor Shah Rukh Khan also tweeted: "Often I wish I was a woman... then realise I don't have enough guts, talent, sense of sacrifice, selfless love or beauty to be one. Thank you girls."
Indian writer and director Farhan Akhtar also joined with his message encouraging people to "deepen our resolve to create a world in which all women can live with equality, freedom and dignity". Akhtar is also the Goodwill Ambassador for South Asia at UN Women. Meanwhile, Bollywood actor Akshay Kumar posted an image of himself with his mother, sister and wife, saying: "Three cheers to these three ladies who keep me sane by driving me insane almost daily."