Women around the world are staging protests to highlight gender inequality and the sexual harassment and discrimination they face on International Women's Day (8 March).
The #MeToo movement took to the streets of Seoul, as South Korean women dressed in black called for sexual offenders to be brought to justice.
Since a South Korean female prosecutor went public with her experience of sexual misconduct in the workplace, the movement has gained major traction in the country.
Several men in senior positions have resigned in recent weeks, including presidential hopeful Ahn Hee-jung who stood down after his secretary accused him of repeatedly raping her.
Demonstrations were also organised in other Asian countries, with female Pakistani officers holding a march at the police headquarters in Islamabad to challenge the taboo against women joining the forces.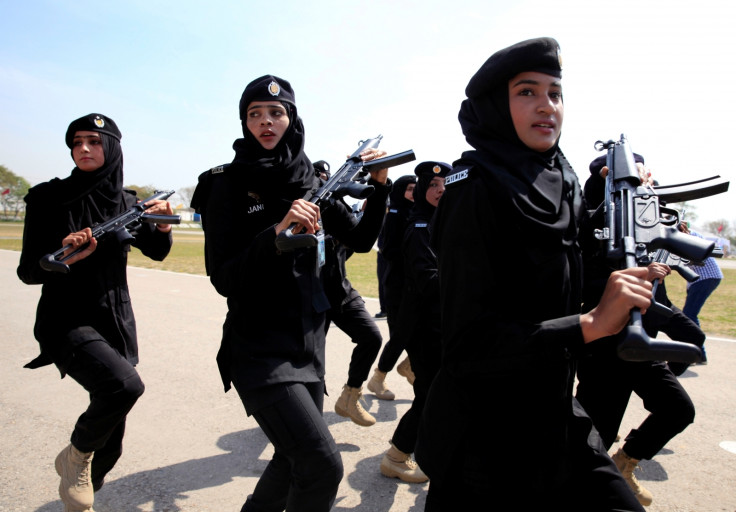 In India, girls and women joined a march in Delhi to protest against domestic violence and sexual assault. They carried placards reading "Unite against violence against women," "Man enough to say no to domestic abuse" and "my body, my choice."
Thousands of women and girls are victims of gender violence in India each year, with crimes against women having increased by 34% between 2011 and 2015, according to the country's National Crime Records Bureau.
Prime Minister Narendra Modi tweeted: "India is moving from women development to women-led development. Through their exemplary deeds, several women have left an indelible mark in the history of humankind."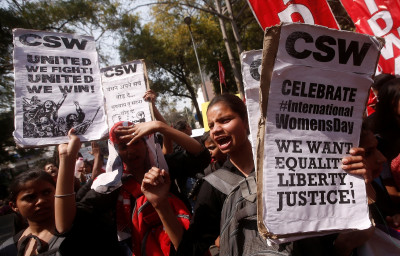 Across Spain, women held a 24-hour "feminist" strike to protest against the gender pay gap and gender violence. Transport operators, journalists and politicians are taking part in the nationwide strike.
More than 300 trains are not operating because of the strike and female journalists at Spain's leading newspaper El Pais have stopped working for 24 hours.
The national walkout is being supported by several high-profile politicians, including Manuela Carmena and Ada Colau, the mayors of Madrid and Barcelona. Colau said she was joining the strike "to show that without women the world really does stop."
"As people in public positions, we have the duty to mobilise on behalf of those who can't go on strike," she said. "This is the century of women and of feminism; we've raised our voices and we won't stop. No more violence, discrimination or pay gap!"