The continuing fallout from the Sony Pictures attack has seen a copy of the script from controversial film The Interview leaked online.
The copy of The Interview script was posted to the same file-sharing website that hacking group Guardians of Peace have been posting links to other stolen data, including films, documents, financial information, and emails from within Sony Pictures over the last three weeks.
According to the website Geek Slop, which downloaded the file, the script is 168 pages long and featured 22,633 words.
Another post on Pastebin which was published on 16 December, features what claims to be the full text of the script. According to the date listed within the text, this version was submitted on 15 March, 2012 and features 119 pages.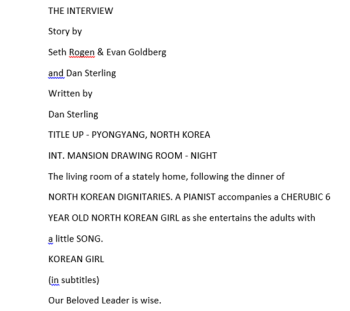 Earlier version of the script
While the script looks similar to the snippet posted on Geek Slop, there are some discrepancies. For example, Seth Rogen's character name, which is Aaron Rapaport in the final film, is listed as Seth Rapoport.
The film's other star, James Franco's character is listed as Dave Skylark which is his name in the film according to IMDb.
This is likely a earlier version of the script but probably contains most of the same elements of the final version of the film.
North Korea attack
The Geek Slop website reported that it was hit with a denial of service (DoS) attack within a couple of hours of posting this article with the traffic coming from a North Korean IP address. The attack knocked the website offline briefly before switching to an IP address in Hong Kong.
Sony Pictures has been reeling from multiple embarrassing and financially damaging leaks following a devastating cyber-attack against its systems in November 2014. The identity of the attackers is still unknown, with the group simply going by the moniker Guardians of Peace.
Sony Pictures has called in the FBI and security experts Mandiant to help investigate the attack but while many are pointing the finger at North Korea, there is no conclusive proof yet that this is the case.
The attack is linked to the release of The Interview, a film which pokes fun at the North Korean dictator Kim Jong-un, and is due for release on Christmas Day in the US. The hackers have called it a "movie of terrorism".
The hackers have called on Sony Pictures not to release the film, and on 16 December the hackers gave their sternest warning yet when they threatened violence against anyone going to see the film in cinemas upon release.
While the Department of Homeland Security has said there is no credible threat in this warning, the premiere of the film in New York has been cancelled and several cinema chains have said they will not be showing it.