How nice would it be if you got a notification whenever there was a new version of a jailbreak tweak or jailbreak app released in Cydia?
Back in January, Ryan Petrich had plans to release a jailbreak tweak that would do exactly that and today it seems those dreams have come true. As promised, the developer just released a new jailbreak called "Curiosa" that throws up a notification every time there is an update available for jailbreak tweaks and apps installed on your iOS device.
The jailbreak tweak integrates into the iOS notification centre, paving the way for real-time notifications and instant access to the download page of the jailbreak tweak from where you can install the latest update of your choice. "Curiosa", is triggered by a simple tapping on the update notification in the notification centre and checks for updates to packages installed on your jailbroken iOS device and those that match with the specific keywords that can be entered in the Settings app (Settings -> Curiosa).
What's more? "Curiosa" can also be configured to check for updates hourly, every two hours, every six hours or a daily basis. Updates may also be checked manually via "Curiosa" by assigning an activator control to invoke it or check for updates after every reboot.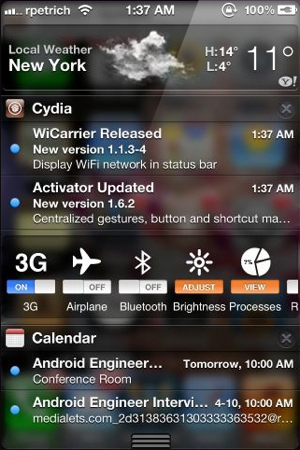 Curiosa is available for free on Cydia and can be found on Ryan's beta repository (http://rpetri.ch/repo/).
Here is the rundown of simple steps to install Curiosa:
Launch Cydia
Tap on Sources
Then tap on the Edit button
Then the Add button and enter the following URL - http://rpetri.ch/repo/
Then tap on the Add Source button
After Ryan's repository is successfully added, tap on search tab and look for Curiosa
Select Curiosa from the search options
Tap on the Install button
Then tap on the Confirm button
After Curiosa is successfully installed, tap on the Restart Springboard button.
That completes the process and you will now start getting notifications for all the jailbreak apps and tweaks installed on your jailbroken iPhone, iPad or iPod touch.
MUST READ: iOS 5.1 Untethered Jailbreak: Status Update for iPhone, iPad, iPod Touch from Pod2g
MUST READ: Downgrade iOS 5.1 to iOS 5.0.1: Developer Unearths a Way for iPad 2 and iPhone 4S

MUST READ: iOS 5.0.1 Untethered Jailbreak: How to Unlock iPhone 4S, iPad 2 Using Absinthe [VIDEO & GUIDE]