iOS developer of Sn0wbreeze fame - iH8sn0w - is working hard to find the missing pieces of the puzzle to help owners of iPad 2 and iPhone 4S in downgrading their devices from iOS 5.1 to iOS 5.0.1. The other notable contributions from the developer include iFaith, iReb and f0recast. Until now, the two iOS devices iPhone 4S and iPad 2 have hit a dead-lock with the new iOS 5.1 release.
Since these devices port an A5 processor, a firmware downgrade with them is still a tough puzzle to crack. Every time Apple releases a new version of iOS, the older firmware version is unsigned forcing the user to upgrade and in the process render the older jailbreak installations useless. As a result, the unsuspecting jailbreak users need to wait that much longer for the Dev-Teams to unearth a solution or a fix. On older devices though, users can benefit from a firmware downgrade to versions of iOS that Apple no longer signs as long as they have the relevant SHSH blobs saved for that firmware.
On several occasions, Cydia has come to users' rescue by automatically capturing any available blobs and providing the updated Cydia app with the saved blobs to them. Jailbreak fans also use the very popular and powerful TinyUmbrella tool to quickly and efficiently capture available SHSH blobs and save them locally on their machines for use at a later date.
Although iPad 2 has been around since March 2011 and the iPhone 4S since October, there hasn't been a way to allow users to downgrade these A5-powered devices which means that a restore is required in the event the latest firmware version is installed accidentally. Canadian-based iOS developer and hacker iH8sn0w claims to have unearthed a loophole in Apple's APTicket system that allows him to successfully downgrade his iPad 2 from iOS 5.1 to 5.0.1. The good news is that he also believes that the loophole will also permit firmware downgrades on Apple's new iPad running on the new A5X processor. Obviously this will only be possible when newer firmwares become available due to the fact that all new iPads were actually shipped with iOS 5.1, which is the current version.
The iOS developer - iH8Sn0w - has invited iPhone 4S and iPad 2 owners to join the downgrade party and exploit the privilege of restoring their devices to any firmware of their choice, provided they have the relevant SHSH blobs saved.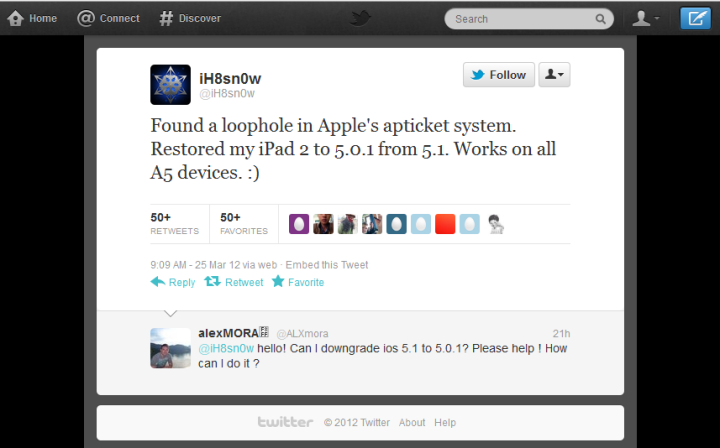 "Found a loophole in Apple's apticket system. Restored my iPad 2 to 5.0.1 from 5.1. Works on all A5 devices. :) A5X devices will work too once Apple pushes a new firmware for it. BTW, This cannot be applied to basebands. Only iOS itself," reads the developer's tweet on his Twitter page. However, there is no further information available on the downgrade procedure at this point of time.
MUST READ: iOS 5.1 Untethered Jailbreak: New Status Update for iPhone 4S, iPad 2 and New iPad from Pod2g and Chpwn
MUST READ: iOS 5.1 Untethered Jailbreak: Redsn0w, WebProNews and Softpedia Confirm "EasyRa1n RC5" Jailbreak for iPhone 4/4S as Total Fake
MUST READ: iOS 5.0.1 Untethered Jailbreak: How to Unlock iPhone/iPad/iPod Touch Using Redsn0w 0.9.10b1/Corona [VIDEO & TUTORIAL]