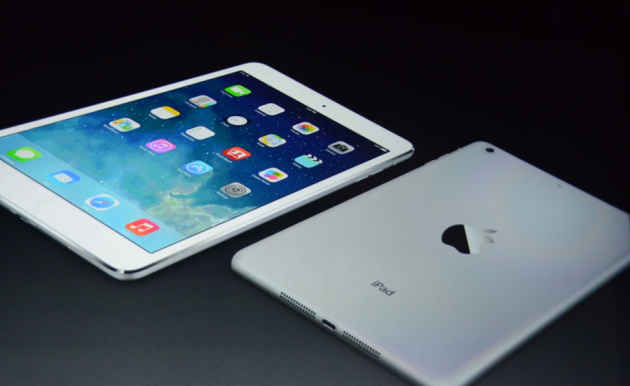 The new A7 chip in iPad Air is twice as fast as its predecessor's A6X chip in terms of processor performance (CPU and GPU), according to recent claims by Apple. The company's claims turned out true according to the recent GeekBench scores, which showed that the iPad Air was indeed over 80% faster than the iPad 4.
These claims have been further strengthened with the results obtained by AnandTech's Anand Lal Shimpi, who conducted a series of extensive Graphics Benchmark tests for the iPad Air against several other devices including the iPad 4.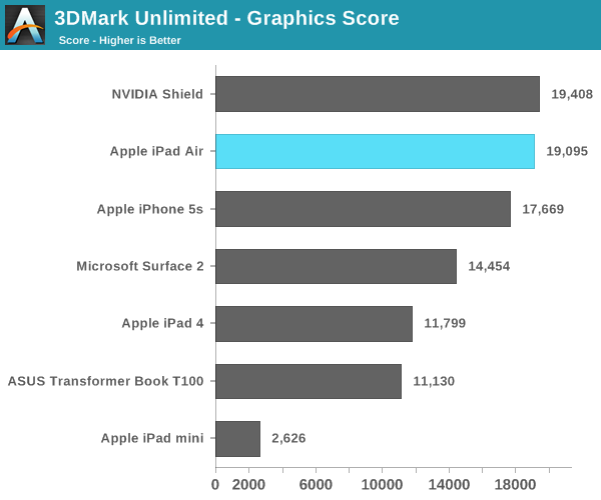 Consequently, the iPad Air was found to be over 60% faster than the iPad 4 in the overall Graphics score obtained via 3DMark Unlimited Benchmark. The iPad Air secured a score of 19,095 points as opposed to iPad 4's score of 11,799 points.
The iPad Air clearly dominated across most of the graphics tests except for the Triangle throughput test (onscreen and offscreen), where the iPad Air stood at sixth position (68.1 and 70.2 points), while the iPad 4 secured the first position with 127.9 and 128.5 points respectively.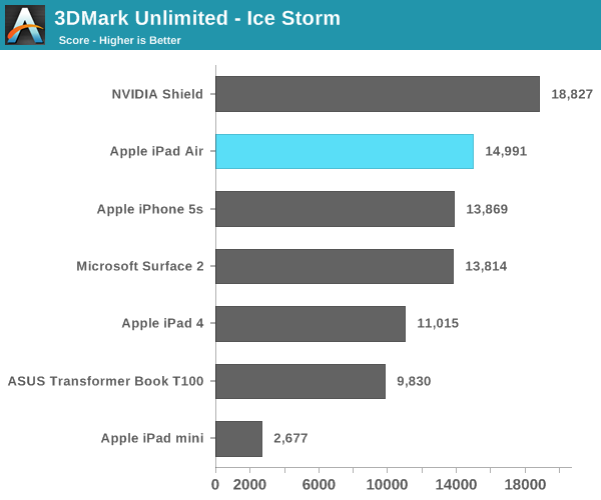 iPad Air's GPU outperformed its predecessor in the 3DMark Ice Storm benchmark with 36% better performance than the iPad 4, while securing an 8% boost over iPhone 5s' performance. T-Rex HD game simulation benchmarks (onscreen and offscreen) showed a staggering 75% performance increase for iPad Air over fourth generation iPad.
As AnandTech points out, the A7 processor chip on the iPad Air is capable of achieving this remarkable feat despite featuring a smaller 64-bit memory bus in comparison to the 128-bit memory bus on iPad 4's A6X chip. Nevertheless, the benchmark report further notes that the larger system cache on A7 chip could help improve effective memory bandwidth and compensate for its smaller memory bus in order to boost the overall graphics performance.
Also Read: iPad Air Outperforms Nexus 7 (2013) in Performance Benchmark [VIDEO]