We put Apple's smaller iPad side-by-side with the top Android tablet on the market, the Google Nexus 7, to help you decide which to buy.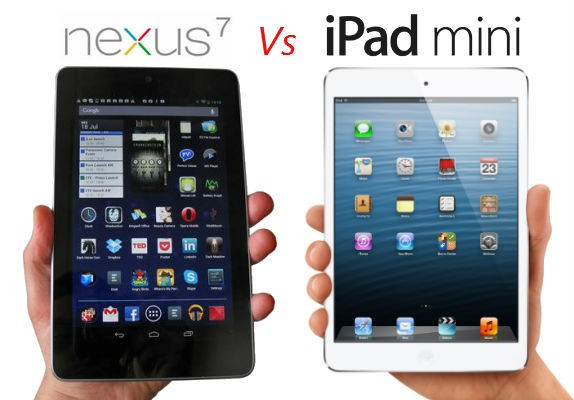 As expected, Apple announced the iPad mini at its event in San Jose on 23 October. The 7.9in tablet will go on sale in numerous countries, including the UK from 2 November with pre-orders beginning this Friday, 26 October. Prcies for the smaller iPad begin from £269, but this is just one of the considerations users will need to weigh up in deciding if they should purchase the latest Apple tablet.
One of the other considerations will of course be the competion out there, and at the moment, the Nexus 7 is the number one Android tabelt on the market (in the UK at least) and so here were compared both tablets in terms of display, price, power and specs in order to help you decide which is the one for you.
iPad mini vs Nexus 7: Display
The iPad mini features a 7.9in LED-backlit display which uses IPS technology which should ensure better viewing angles. The resolution of the iPad mini is the same as that of the iPAd 2, with 768 x 1,024 pixels givign it a pixel density of 163 pixels per inch (ppi).
This means the display on the iPad mini is not the same high definition Retina display seen on the latest full-sized iPad 3/4, the iPhone 5, iPod touch and MacBook Pro laptops.
Apple says the iPad mini's display delivers the same iPad experience in a design which is of 35 percent more screen real estate than other 7in tablets and up to 67 percent more viewing area while web browsing.
Google's Nexus 7 as its name suggests features a 7in HD display which is protected with toughened Corning Glass. The resolution of the display is 800 x 1,280 pixels giving it a pixel density of 216ppi, which is significantly higher than the iPad mini.
However, as Phile Schiller pointed out during the presentation last night, Android's app ecosystem is still a long way behind iOS when it comes to the number of tablet-specific apps available in the Google Play store. So no matter how good the screen on the Nexus 7, if there are no apps to take advantage then the iPad mini will always look better.
iPad mini vs Nexus 7: Dimensions
The iPad mini measures 200 x 134.7mm and is just 7.2mm thick, which Apple compared to the width of a pencil. As far as the weight is concerned, the Wi-Fi version of iPad mini is four grams lighter than the Wi-Fi + 3G/4G model at 308g. The iPad mini is 23 percent thinner and 54 percent lighter than the third generation iPad. It continues the aluminium unibody design of previous Apple products - it's chassis made up of a single piece of aluminium and a single piece of glass.
The Nexus 7, in contrast, measures 198.5 x 120mm and is noticably thicker at 10.5mm. It is also heavier, weighing 32g more than the comparable iPad mini at 340g. However, when compared to other tablets such as a the original Kindle Fire or Rim's BlackBerry PlayBook, the Nexus 7 is lighter and more portable.
iPad mini vs Nexus 7: Operating System
The iPad mini will run on Apple's latest mobile operating system, iOS 6 that promises more than 200 new features compared to the previous iteration of the software, including a new Maps app with turn-by-turn navigation and a new flyover view; updated Siri; Facebook integration for contacts and calendar; Passbook and several more.
Apple is reported to be planning to release a new version the operating system- iOS 6.0.1 - in the coming weeks and this could come preloaded on the new iPad minis. The company has reportedly started testing the upcoming version of iOS with several carrier partners in the US. In addition Apple is reportedly testing the iOS 6.1 which has been slated for a release sometime after the Christmas holidays.
The Nexus 7 is first device to run on Android's latest software, version 4.1 (Jelly Bean). The Jelly Bean update offers several improvements including a revamped user interface (UI), a better notifications system and home screen management, improved voice search, text input with offline voice typing, improved camera app and enhanced Android Beam app.
Google has recently released another software update - Android 4.1.2 - for the Nexus 7. The update was also rolled out to a couple of Google's smartphones including Nexus S and Galaxy Nexus. However Googe is set to launch Android 4.2 next week at an event on 29 October and the Nexus 7 is likely to be a the top of the list of devices which will get the update first.
iPad mini vs Nexus 7: Processor
Apple is using the A5 chip for iPad mini, the same dual-core processor that powers the iPad 2. This dual-core A5 chip promises to deliver responsive graphics and a fast and fluid experience while still prioviding 10 hours battery life. Apple is yet to reveal the amount of RAM in the iPad mini, which is nothing new for Apple.
The Nexus 7 is powered by Nvidia's Tegra 3 chip featuring a quad-core processor (Cortex-A9) with GeForce graphics unit. The processor runs at a clock speed of 1.3GHz. This is the similar chip that powers a number of high-end smartphones and tablets. The Tegra 3 chip is paired with 1GB of RAM and in our review, we found the combination of Jelly Bean and Tegra 3 to make the Nexus 7 fluid and powerful.
iPad mini vs Nexus 7: Camera
Apple's iPad mini is a clear winner in the camera stakes, considering the Nexus 7 does not even have a rear-camera - though we still don't see the point of a rear camera on a tablet so the lack of one on the Nexus was not a major failure for us.
The iPad mini has a 5 megapixel iSight camera with auto-focus, face detection, geo-tagging, Hybrid IR filter, tap-to-focus and an LED flash. This iSight camera is also capable of HD video recording at 1080p. The iPad mini also has a 1.2 megapixel FaceTime HD camera on the frotn which can record HD video in 720p. This front-camera is designed for video calling over Wi-Fi as well as 3G/4G.
The Nexus 7, like the iPad mini, features a 1.2 megapixel front-facing camera designed for video-calling. The camera also can capture video in 720p.
iPad mini vs Nexus 7: Connectivity
The iPad mini features dual-band 802.11n Wi-Fi support for speeds up to 150Mbps which is twice the Wi-Fi performance when compared to the iPad 2 and the same as the latest generation of full-sized iPads. The Wi-Fi + 3G/4G variant of iPad mini is said to be world-ready with built-in support for ultrafast wireless standards, including LTE and DC-HSDPA allowing users to browse, download and stream contents fast. The tablet also supports Bluetooth v4.0.
The iPad mini will support the 1800MHz frequency being used by EE for the UK's first 4G network which will launch next week on 30 October.
The Nexus 7 offers Wi-Fi 802.11 b/g/n and Bluetooth and Google's flagship tablet is also NFC enabled. The Nexus 7 has been criticised for not offering a 3G-enable version, but rumours suggest teh search giant is expected to announce a 32GB version of Nexus 7 as well as a 3G version next week.
iPad mini vs Nexus 7: Storage
The iPad mini is, like all other iPads, available in three storage options; 16GB, 32GB and 64GB.
The Nexus 7 is available in just two storage options so far - 8GB and 16GB - but as we said above, it is expected to launch a 32GB version next week.
iPad mini vs Nexus 7: Battery
The iPad mini runs with a built-in 16.3 watt-hour battery which promises to deliver up to 10 hours of battery life when web browsing on Wi-Fi, watching video and listening music. The 16.3 watt-hour battery inside Wi-Fi + 3G/4G model is expected to last up to nine hours of surfing the web using cellular data network and 10 hours of browsing on Wi-Fi.
The Nexus 7 is powered with a powerful battery of 4325mAh which delivered over eight hours of video playback (at 50 percent brightness) during our testing.
iPad mini vs Nexus 7: Pricing
While all the above comparisons will be important to some, for the majority we expect the final deciding factor could be pricing. Overall the iPad Mini is significantly more expensive than the Nexus 7 with Apple hoping its classier design and better tablet apps ecosystem will attract enough users to stump up more cash.
Here are the pricing options:
iPad mini
Wi-Fi only/3G
16GB - £269/£369
32GB - £349/£449
64GB - £429/£529
Nexus 7
Wi-Fi only
8GB - £159
16GB - £199
It should also be noted that the Nexus 7 comes with a £25 voucher for the Google Play store to purchase apps, music, movies and games.
So there is our comprehensive breakdown of the two high-profile tablets. Has it helped make up you mind? Which are you going to purchase? Let us know what you think in the comments below.