Apple has confirmed that it will be holding a media event on October 4, where the company is expected to announce the iPhone 5, iOS 5 and iCloud; the event carries the tagline "Let's talk iPhone"
Weeks of rumours about the upcoming event have proved true and it seems that the next iPhone - either to be called iPhone 5 or iPhone 4S - will be announced at the media event next Tuesday, which is scheduled to take place at Apple's Town Hall auditorium and begins at 10am Pacific Time (6pm GMT).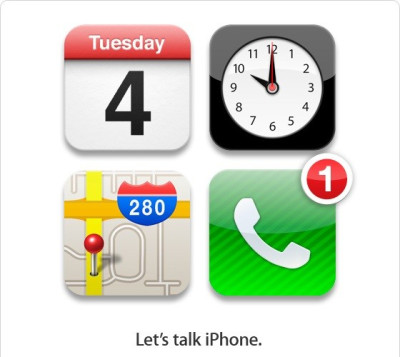 The invitation shows the calendar app at Tuesday 4, the clock app at 10am, the maps app showing Apple's HQ and iPhone app showing one missed call.
The tagline "Let's talk iPhone" could be interpreted as a link to the anticipated 'Assistant' feature due to be a vast upgrade to the current Voice Control application.
An updated iPod touch, iOS 5 and iCloud are also expected to be announced at the event. iOS 5 will bring an updated notifications centre to iPhone, iPad and iPod touch, as well as new apps such as Reminders and Newsstand. iCloud is a replacement to Mobile Me, offering wireless syncing between iOS devices and computers, as well as online email, calendar, contacts and storage facility.
Other reports have suggested that the Facebook app for iPad for also be announced at the event next Tuesday.