OnePlus, the start-up behind the successful OnePlus One smartphone, welcomed Apple to "the Plus family" yesterday after the Cupertino-based company unveiled the iPhone 6 Plus. Today, we compare the phablets from the two companies to tell you how they are different.
Price
The most important difference between these two smartphones happens to be their price. The iPhone 6 Plus is expected to retail at £619 (16GB) when it is out. However, the OnePlus One can now be purchased in the UK for a much lower price of £229 and £269 for the 16GB and 64GB models respectively.
Readers should note that most of OnePlus One's features are on par with the iPhone 6 even though the former is being sold at a much lower price point.
Design
Apple takes the lead in this department with a gorgeous design that blends anodised aluminium, stainless steel, and glass. Hold it in your hand and you'll agree that it feels absolutely premium.
While the OnePlus One doesn't boast a metal body like the iPhone, its polycarbonate frame feels sturdy when held and offers a tight grip thanks to its finish.
Display
Apple uses a 5.5in LED-backlit IPS LCD display on the iPhone Plus. It has a resolution of 1080 x 1920 pixels and a pixel density of 401ppi.
The OnePlus One has a 5.5 inch 1080 x 1920 IPS LCD display, which also churns out a pixel density of 401ppi.
Camera
While Apple might be stubborn in retaining an 8 megapixel sensor, the company has made changes and additions to help it click pictures better and faster than before, meaning that one of the most practical smartphone cameras might have just become better. There's also a 1.2 megapixel camera up front for selfies and video chats.
For those of you who like shooting videos, highlights include the ability to grab 1080p high-definition clips at 60 frames per second, take 240-fps slow-motion shots, and provide cinematic video stabilisation. all that video can be stored on up to 128GB, depending on which version you go for.
The OnePlus One has a 13MP Sony Exmor RS rear camera, combined with a 6 part lens with an f/2.0 aperture, and dual LED flash. This should help users click high resolution pictures with plenty of detail. The smartphone should offer superior selfies thanks to its 5MP front camera. It also has the ability to shoot gorgeous 4K video with the rear camera.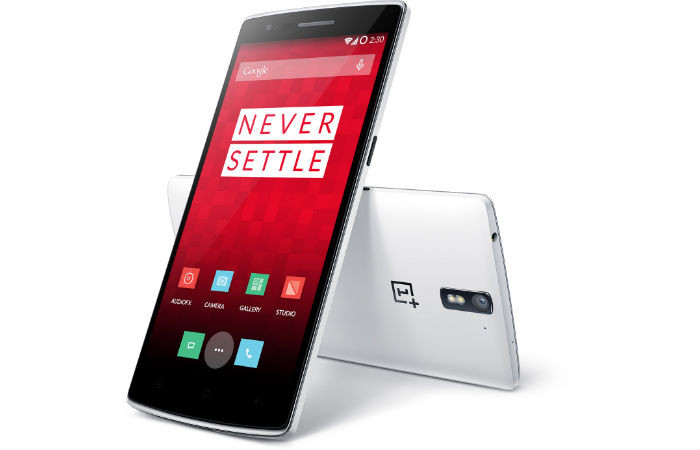 Performance
The iPhone Plus 6 uses an A8 chipset. There's a dual-core 1.4 GHz Cyclone (ARM v8-based) CPU and a PowerVR GX6650 (hexa-core graphics) GPU. There's also a new M8 motion co-processor that builds upon the introductory M7 that debuted with the iPhone 5s.
It can distinguish between sports such as cycling and running. It also can calculate distance and elevation using an onboard barometer to measure air pressure changes. Other additions include NFC, the Touch ID fingerprint sensor and more.
Like most Android flagship smartphones, the OnePlus One uses one of the best processing packages in the market, the quad-core Snapdragon 801 processor clocked at 2.5GHz along with an Adreno 330 GPU. It has an abundant 3GB of RAM for effective multi-tasking capabilities. There are 16GB and 64GB options for on-board memory and options to expand memory via cards.
Bottom Line
If you're open to shelling out a lot of money, then the iPhone 6 Plus is an option. Its strong points include premium design, powerful video recording capabilities, and features such as the Touch ID fingerprint sensor.
However, if you aren't interested in spending as much, we recommend the OnePlus One. It has powerful video recording and imaging capabilities, strong performance components and much more, all at an extremely low price point. The phone also uses CyangogenMod 11S, which allows for an amazing amount of flexibility and freedom, unlike Apple's iOS, which has several restrictions.
The OnePlus One costs a third of the iPhone 6 Plus and offers most of the same features. It all comes down to how much you'd like to spend and what kind of OS you'd like to run at the end of the day.