The launch of Apple's iPhone 4S in Beijing had its share of tribulations early on Friday morning, when an Apple flagship store remained closed following concerns over safety of customers and Apple employees. The crowd of shoppers, frustrated by announcements of the cancelation of sales, took to pelting eggs at the glass-walled store.
In the aftermath of the incident, Apple released a statement saying it was temporarily suspending iPhone sales at all five of its mainland China stores. However, the phones are still available online, through Apple's official partner - Unicom - as well as authorized resellers.
There is still no word about when Apple stores would commence sales of iPhone 4S.
The incident at the store in the Sanlitun district is similar to one in which a stampede occurred, during the frenzy to purchase the iPad 2. An incident in May reportedly resulted in at least four people being injured, after a glass door was smashed by an unruly mob, according to China Daily.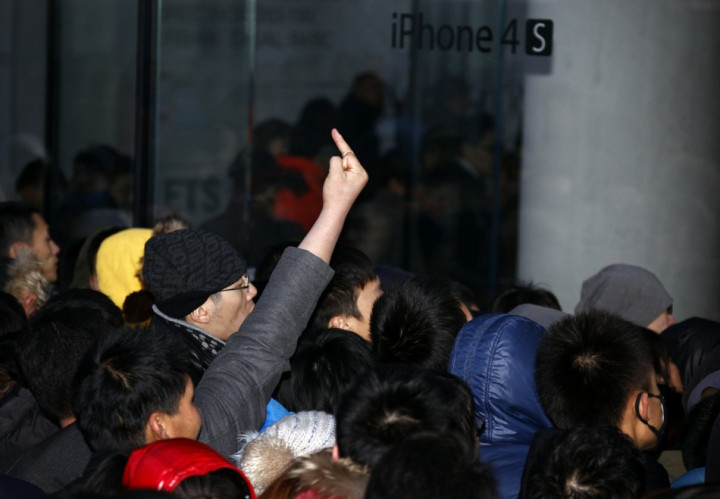 Meanwhile, an army of scalpers apparently hired a group of migrant workers to capitalize on the scarcity of iPhones in China. These scalpers thrive on selling Apple products in the black market at much higher prices than the face value.
The workers, in this case, were apparently offered an incentive of 100 renminbi or $16 on successfully acquiring an iPhone at the store. Apparently, police had prior intimation of possible unrest, prompting them to force the shutters down at the stores.
On record, this is the second instance within a year that Sanlitun stores have been forced to temporarily shut down while trying to offer a new product.
Elsewhere, at other Apple stores in Beijing and three in Shanghai, iPhone 4S stocks sold out in no time, leaving several people disappointed. However there were no reports of violence.
China accounts for one-sixth of Apple's global sales and is the company's fastest-growing market, despite having only five company-owned stores.
"Customer response to our products in China has been off the charts," said the Chief Executive Officer (CEO) of Apple, Timothy D. Cook, addressing the press last week.
Also Read:
Murdoch Says Google is 'Piracy Leader'; Fires First Salvo at Obama Too

Apple Threatens Legal Action over Release of Steve Jobs Action Doll
Symantec Scareware Scam Ends in Lawsuit
Iran's Internet Crackdown Plans: Is There a Way Out?