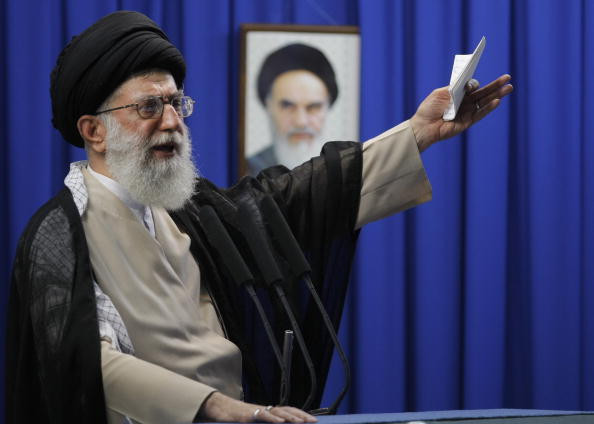 Iranian Supreme Leader Ayatollah Ali Khamenei has heaped scorn on the US for "shameless" military threats as the world powers and Tehran are poised to resume negotiations over Iran's nuclear programme.
Criticising Washington for fabricating the "myth" that Iran was engaged in activities to produce nuclear weapons, Khamenei said the US was the source of security threats and not Iran.
"They created the myth of nuclear weapons so they could say the Islamic Republic is a source of threat. No, the source of threat is America itself," said Khamenei, who wields the ultimate authority in Iranian political affairs, according to the quasi-official Fars news agency.
In his address to an army gathering in Iran, Khamenei said: "The other side is methodically and shamelessly threatening us militarily... even if they did not make these overt threats, we would have to be prepared."
Khamenei has hardened his anti-US stance as Iran is set to hold discussions with the P5+1 powers - the US, the UK, China, Russia, France, and Germany - to hammer out a comprehensive and permanent deal over Tehran's contentious nuclear programme. Following several rounds of marathon talks, both sides agreed on an initial framework earlier this month.
The anti-US rhetoric was also echoed by other top authorities.
"We will respond with hot lead [bullets] to those who speak of it. Iran will not become a paradise for spies. We will not roll out the red carpet for the enemy," said General Hossein Salamy, the deputy leader of Iran's Revolutionary Guard.
Referring to some of the issues in the nuclear deal, he categorically ruled out permission for inspecting nuclear facilities.
"It means humiliating a nation. They will not even be permitted to inspect the most normal military site in their dreams," Salamy said in his televised address which was broadcast by the state-run channel.
Though the two sides have agreed on several thorny issues, key differences continue to exist. But these are expected to be resolved paving the way for a final agreement by the end of June.