Talks that could result in the easing of sanctions on Iran could also be bearish for crude oil prices over the next 18 months, according to a top Bank of America Merrill Lynch analyst.
Iran has over 30 million barrels of oil floating offshore and Francisco Blanch, head of global commodities and derivatives research at Bank of America Merrill Lynch Global Research, said he will be looking to see what happens to that oil, as it could hit the market relatively quickly if sanctions are lifted.
Blanch told CNBC: "It's important to keep in mind that oil trades a month and a half ahead, so if the sanctions are lifted in three months or in four months, oil is going to start pricing that up pretty soon.
"We could start to see the pressure building as soon as the [US] Congress and the Senate give [President Barack] Obama greater backing on the Iran deal.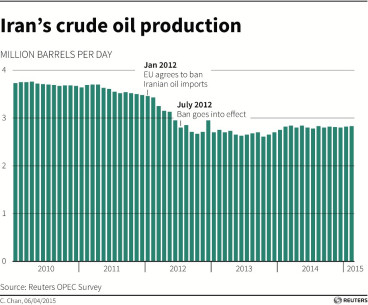 "The second thing is how much are Iranian volumes going to ramp up on a forward basis as domestic production increases again."
Analysts have warned that ramping up exports could take months and was unlikely to happen before 2016.
Morgan Stanley said in a note: "While clearly a bearish headline, a final deal and full lifting of sanctions still faces a number of obstacles.
"Even if a final deal is reached, we do not expect any physical market impact before 2016."
Last week, the Brent May contract lost some 2.7%, on speculation that a preliminary nuclear deal between Iran and Western powers could ease sanctions on the Opec member, potentially flooding the markets with Iranian oil.